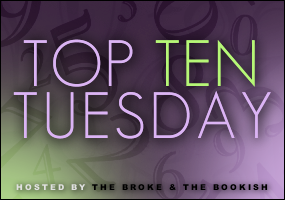 Top Ten Tuesday is an original feature from The Broke and the Bookish. This week's topic is the Top Ten Books I Really Want To Read But Don't Own Yet. So many books, so many choices! My book wish list is sky high, but if somehow I magically received a very generous bookstore gift card (and some of these pre-release books were magically available now) these are some of the books I'd want to acquire.
Yo, I'll tell you what I want, what I really, really want:
1. I'll Give You the Sun by Jandy Nelson – I have gotten close to receiving a review copy of this, but no cigar. My preorder will arrive in a few weeks though. Can't wait!
2. Belzhar by Meg Wolitzer – I liked The Interestings by this author and want to read her YA debut. Everything I've read about it makes me more intrigued.
3. Glory O'Brien's History of the Future by A.S. King – I just really like King's books an wish I owned all of them.
4. The Body Electric by Beth Revis – Revis is self-publishing this one and since I'm a fan of her Across the Universe series I'm very eager to check it out. Plus, there is a very limited print run planned that makes me crazy with want.
5. Heir of Fire by Sarah J. Maas – I've experienced all the books in the Throne of Glass series via audiobook, so I'm waiting patiently to listen to this one! Just one week to go.
6. One Plus One by Jojo Moyes – I liked Me Before You and want to read more from this author.
7. The Rosie Effect by Graeme Simsion – I feel like this sequel to The Rosie Project just snuck up on me. Excited to see what Rosie and Don are up to!
8. Love and Other Foreign Words by Erin McCahan – I've had my eye on this one, and I had borrowed the ebook from the library but it expired before I could read it. (Don't you hate when that happens?) This is supposed to be a humorous coming-of-age and I just know I'm going to click with this one.
9. Bad Feminist: Essays by Roxane Gay – I don't read a lot of non-fiction but this book of essays about feminism, race, and culture sounds like a must-read.
10. What Alice Forgot by Liane Moriarty – I read and loved The Husband's Secret and Big Little Lies, so I want to catch up on Moriarty's other books, and this one seems to be the place to start.
Do we have any wish list books in common? What books do you really want to own?
Related Posts