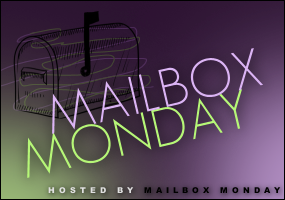 Mailbox Monday is a weekly event where we share our latest book arrivals. Link up and find new mailboxes to stalk at the Mailbox Monday blog!
I feel like I've been reading a lot this week, but I haven't managed to finish anything. I can't seem to focus on any one book for some reason- does that ever happen to you? Hopefully something will grab me soon.
I have a little bit of everything in my mailbox this week:
For Review:
A Breast Cancer Alphabet by Madhulika Sikka – October is breast cancer awareness month, and I'll be helping to spread some awareness with this awesome book. Thanks TLC Book Tours and Crown/Random House!
The Rosie Effect by Graeme Simsion – Ahhh the sequel to The Rosie Project! Thanks, Simon & Schuster- you made my day!
The Shape of My Heart by Ann Aguirre – The final book in the 2B trilogy, featuring Max and Courtney, two friends who become something more.
Library:
Pioneer Girl by Bich Minh Nguyen, audiobook read by Bernadette Dunne – This is a literary mystery about a Vietnamese American family's relationship with Laura Ingalls Wilder via a gold-leaf brooch. Some of my favorite bloggers loved this one and I was happy to find the audio at the library.
Brown Girl Dreaming by Jacqueline Woodson – This memoir-in-verse has been getting a lot of attention, and is currently under consideration for the National Book Award in the YA category.
Purchase:
Girls Like Us by Gail Giles – Another book on the National Book Award YA longlist. And this one is on sale for kindle now for $2.51.
What's new in your mailbox?
Related Posts