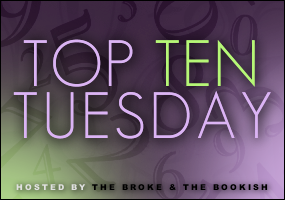 Top Ten Tuesday is an original feature from The Broke and the Bookish.
This week we are spotlighting our favorite new-to-me authors. I read several new-to-me authors this year- yay for new author discoveries!  To help narrow down my list I'm not including debut authors this time around.
Top Ten New-to Me Authors: (sorted by # of books read)
1. Diana Gabaldon – I succumbed to Outlander fever and am currently on book four in the series. I'm trying to read one book a month, but these are long books!
2. Jay Crownover – I started reading The Marked Men New Adult series this year and I'm on book 3. Very addictive!
3. Tim Federle – I read both books in the Better Nate Than Ever series this year and they are so much fun! If you love Broadway theater, humor, and Middle Grade books you have to read these.
4. Liane Moriarty – Moriarty is a great find! I loved the two books I read: The Husband's Secret and Big Little Lies. What Alice Forgot will be next.
5. Roxane Gay – I read Bad Feminist this fall and was very impressed, and I've even gifted it a few times too. (And just ordered a Bad Feminist t-shirt) Gay's book is definitely in my top 5 for non-fiction this year! I recently picked up her novel An Untamed State.
6. Benjamin Alire Sáenz – Aristotle and Dante Discover the Secrets of the Universe is wonderful! I need to catch up on more books by this author.
7. Jacqueline Woodson – I've only read Brown Girl Dreaming so far. Such a lovely book- I'm eager to read more from Woodson.
8. John Corey Whaley – Noggin was one of the most unique books I've read this year and made this author a new favorite. I still need to catch up with Where Things Come Back.
9. E. Lockhart – I know Lockhart is a favorite of many, but her popular We Were Liars was my first introduction to this author. What other book of hers do you recommend?
10. Cammie McGovern – Say What You Will is the first book I've read by McGovern, but I've since picked up her book Eye Contact.
Who are your favorite author discoveries?
Related Posts