Mailbox Monday is a weekly event where we share our latest book arrivals. Link up and find new mailboxes to stalk at the Mailbox Monday blog!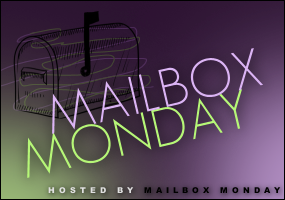 Here's my week in books:
Books in the Mail:
Follow Your Heart: Love on the Lifts by Jill Santopolo – A cute, Choose-Your-Own-Adventure type book that's perfect for Valentine's Day.
The Stars of Summer by Tara Dairman – The sequel to the adorable MG book All Four Stars. The cover is so cute!
Girl Before a Mirror by Liza Palmer – An account executive has to learn to be the star of her own story. Looks good!
Review eBooks:
The Lake Season by Hannah Roberts McKinnon – Put this one on your radar for summer- it's about the relationship between sisters, coming home, and finding yourself again.
The One that Got Away by Bethany Chase – Sarina has a great job and a great boyfriend- but when he goes away on assignment she reconnects with the one that got away. It sounds really sweet and emotional.
The Royal We by Heather Cocks & Jessica Morgan – This adult contemporary romance is inspired by the romance of Prince William and Kate Middleton, and it sounds so cute!
Thoughtful by S. C. Stephens – This is a spinoff of Thoughtless (a rock star romance series) from the guy's POV.
Even When You Lie to Me by Jessica Alcott – This debut is about a taboo teacher-student relationship & is supposed to appeal to fans of John Green, Lauren Oliver, and Sarah Dessen.
Prairie Fire by E. K. Johnston – More fun with dragons – this is the sequel to The Story of Owen.
Library Audiobooks:
Big thanks to: Penguin Young Readers, Putnam, Forever, Crown Books, Atria Books, Grand Central Publishing, Carolrhoda Books, and Ballantine Books.
What's new in your mailbox?
Related Posts