Mailbox Monday is a weekly event where we share our latest book arrivals. Link up and find new mailboxes to stalk at the Mailbox Monday blog.
This week I have two weeks of books to share – hope your mailboxes have been full of fall book goodness.
Books in the mail:
Don't Fail Me Now by Una LaMarche – This is a diversity book club pick and it's about family and love as a girl who goes on a road trip to see her dying father.
Crosstown Crush by Cara McKenna and Ever After (Love to the Rescue #3) by Rachel Lacey – I won these great books from Reading in Pajamas. I've heard good things about Crosstown Crush. Ever After is about the romance between an animal rights activist and the deputy who falls for her.
Dumplin' by Julie Murphy – This is my current read and it's so good! It's about Willowdean, a girl who wants to find her body confidence again by entering a beauty pageant. There is also romance, friendship, and Dolly Parton in this entertaining read.
Dark Wild Night by Christina Lauren – I can't wait to read the next book in the Wild Seasons series.
An Infinite Number of Parallel Universes by Randy Ribay – This debut is about four gamers who take their friendship to real life on a cross-country road trip.
Why Not Me? by Mindy Kaling – I love Mindy so I've already read this one- so good!
Review eBooks:
Pretending to Dance by Diane Chamberlain – Molly and her husband want to adopt a child but Molly's secret past threatens their future.
The Leaving Season by Cat Jordan – Middie is left to pick up the pieces when the unimaginable happens.
Romancing the Dark in the City of Light by Ann Jacobus – An American girl goes to boarding school in Paris (after being kicked out of four boarding schools) and finds herself in a love triangle while she struggles with mental illness.
Symptoms of Being Human by Jeff Garvin – A gender-fluid teen starts an anonymous blog to share their experiences. The blog goes viral and Riley's secret identity might not be a secret for long.
Thicker Than Water by Kelly Fiore – This suspense novel is about how drug addiction affects one family's lives.
Shade Me by Jennifer Brown – The first book in the Nikki Kill series introduces a teen with synesthesia.
Thanks so much to: Penguin Razorbill, Reading in Pajamas, Merit Press, St. Martin's Press, and HarperTeen.
What's new in your mailbox?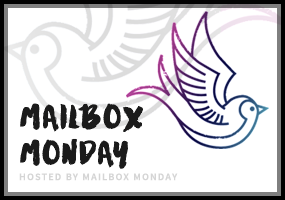 Related Posts