Top Ten Tuesday is an original feature from The Broke and the Bookish. This week's list is all about Beach Reads! I think "beach read" is my go-to category year round  – I love a good breezy read or thrilling page-turner. This year I decided to shop my shelves for potential beach reads, plus some bonus books to look for later this summer. If any of these beach reads don't float your boat, feel free to check out last year's Top Ten Beachin' Reads, 2014's Books to Listen to at the Beach, 2013's Hot Reads in the Summertime, or 2012's Top Ten Books to Bring to the Beach. Plus, What's New in June is packed with beach bag goodness.
Ten Summer Beach Reads on my Shelf: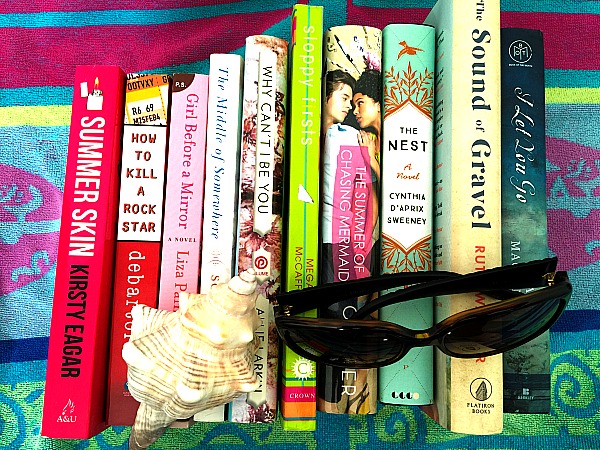 Some of these books I've had on my books for years while others are recent acquisitions. Hopefully I'll get to reduce my TBR pile with these beach reads:
Summer Skin by Kirsty Eagar – I tracked down this Aussie NA Romance from The Book Depository after reading so many glowing reviews
How to Kill a Rock Star by Tiffanie DeBartolo – This 2005 book has a lot of fans and I love a good rockstar romance.
Girl Before a Mirror by Liza Palmer – An account executive attends a romance writer's conference and longs to be the heroine of her own story.
The Middle of Somewhere by Sonja Yoerg – A young widow goes on a wilderness hike to shed some emotional damage and her new boyfriend comes along, opening up some old wounds.
Why Can't I Be You by Allie Larkin – In this 2013 rom-com, Jenny takes on the persona of Jessie, a woman she bears a striking resemblance to.
Sloppy Firsts by Megan McCafferty – The first book in the Jessica Darling series came out in 2001 and chances are if you are a book blogger you are a fan. Better late than never?
The Summer of Chasing Mermaids by Sarah Ockler – This book is inspired by The Little Mermaid and it sounds very beachy and romantic.
The Nest by Cynthia D'Aprix Sweeney – A dysfunctional family gets together to discuss their joint trust fund.
The Sound of Gravel by Ruth Wariner – This memoir is the story of a girl's coming-of-age in a polygamist cult.
I Let You Go by Clare Mackintosh – I love a good twisty psychological thriller beach read!
six more SUMMER BEACH READS to save the date for:
Truly Madly Guilty by Liane Moriarty – I am counting down to the July 26 release date. Obsessed with Moriarty's books!
The Choices We Make by Karma Brown – This author's debut Come Away With Me is also an awesome beach read. I love a good heart-wrenching read and this one about friendship and motherhood sounds really raw and powerful. On sale July 12.
You Will Know Me by Megan Abbott – On sale July 26, this mystery thriller is about family, gymnastics, crime and teenage girls. Sounds amazing!
Results May Vary by Bethany Chase – Caroline is reeling after finding out her husband is having an affair with a man and questions their entire history together. On sale August 9. I also recommend Chase's first book The One That Got Away.
Leave Me by Gayle Forman – This one comes out very late summer (September 6) but I know I can't wait that long to read it. Forman's adult debut is about a stressed woman in her forties who has a heart attack and afterward packs up and leaves her husband and two young children. Will she start a new life or return to her family?
It Ends With Us by Colleen Hoover – On sale August 2, Hoover's latest book is about "an unforgettable tale of love that comes at the ultimate price." I'm scared to read it but I know I won't resist for long.
 What books will you be taking to the beach?
Related Posts