Mailbox Monday is a weekly event where we share our latest book arrivals. Link up and find new mailboxes to stalk at the Mailbox Monday blog. I post my mailbox hauls about twice a month.
Here are some of the books that have made their way to me this month:
The Weight of Zero by Karen Fortunati from Penguin Random House – I am always interested in books that portray mental illness in a realistic way and have heard many positive things about this one.
Breakaway by Kat Spears from St. Martin's Press – New to paperback, this book is about a boy grieving his sister's death, dealing with friendship drama, and finding first love.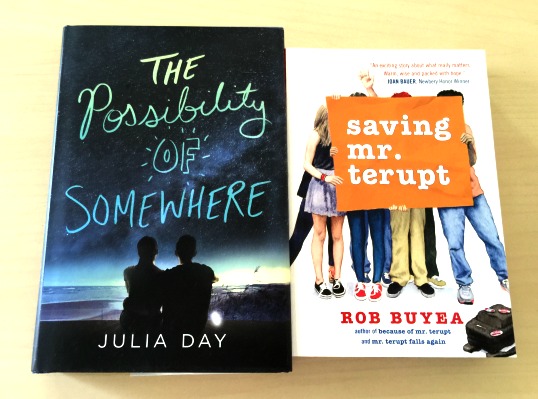 The Possibility of Somewhere by Julia Day from St. Martin's Press – Two students compete for class valedictorian and end up bonding when they work together on a class project.
Saving Mr. Terupt by Rob Buyea from Penguin Random House – New to paperbook, this is the third book in the Mr. Terupt middle grade series. In this installment, the kids are entering junior high.
The Ramblers by Aidan Donnelley Rowley from Harper Collins – I've been meaning to read this one so I was excited the chance to join the blog tour. In this one, three characters meet up in NYC during Thanksgiving week and deal with the past in order to make plans for the future.
All the Ugly and Wonderful Things by Bryn Greenwood from BOTM – This unconventional love story has been getting lots of buzz this summer and it's high on my TBR.
Hard Rules by Lisa Renee Jones from St. Martin's Press – Book one in the Dirty Money series is described as "Wall Street meets the Sons of Anarchy" and is a family drama with romance and mystery.
Minimalist Baker's Everyday Cooking by Dana Shultz from Penguin Random House – Dana's blog is one of my foodie favorites and I'm excited to try my hand at some of these recipes. I suck at food photography but will do my best to share my results.
The Book of Veganish by Kathy Freston with Rachel Cohn from Penguin Random House – This book is aimed at YA's who are interested in trying a plant-based diet. I went vegetarian in my teens and would have loved to have this book as a resource!
What's new in your mailbox?
Related Posts