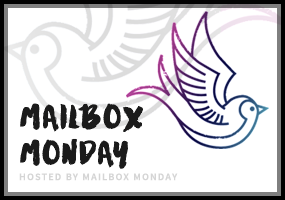 Mailbox Monday is a weekly event where we share our latest book arrivals. Link up and find new mailboxes to stalk at the Mailbox Monday blog. I took an unexpected blogging break last week- very refreshing! Do you find yourself blogging less frequently during the summer?
I didn't receive any physical books in the mail this week.  And with this book lull I took the time to reorganize my bookshelves and start some donation boxes.
Here are the digital review books that made their way to me:
Audiobooks:
A Million Miles Away by Lara Avery, read by Kara Bartell – A girl loses her twin sister in a car accident and has trouble coping with the loss. I've already listened to this one and it's pretty intense.
The Road to You by Alecia Whitaker, read by the author – This is the sequel to Wildflower, about a young country music star navigating fame and romance.
eBooks:
High School Horror: Teen Frankenstein by Chandler Baker – In this Frankenstein retelling, Tor Frankenstein hits someone with her car, and then brings him back to life.
I See Reality: Twelve Short Stories About Real Life compiled by Grace Kendall – "Through prose and comics alike, these heart-pounding short stories ask hard questions about a range of topics from sexuality and addiction to violence and immigration." Authors include: Kristin Elizabeth Clark, Faith Erin Hicks, Heather Demetrios, Kekla Magoon and more.
I Crawl Through It by A.S. King – This surrealist novel is about school pressure and mental health and sounds very original (like all of King's work).
Dream Things True by Marie Marquardt – In this star-crossed romance, a wealthy guy falls for an undocumented girl and immigration raids threaten their future.
The Foxglove Killings by Tara Kelly – In this murder mystery, a teen is found murdered with a foxglove in her mouth.
This is Where it Ends by Marieke Nijkamp – This book takes place over the 54 minutes of a school shooting and is from four different pov's.
Thanks so much to: Hachette Audio, Macmillan Children's, Entangled Teen, and Sourcebooks Fire.
What's new in your mailbox?
Related Posts