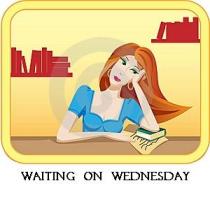 Waiting on Wednesday is a weekly event hosted by Jill at Breaking the Spine that spotlights upcoming releases that we are eagerly anticipating! Want to participate? Post your own WoW entry on your blog, and leave your link at Breaking the Spine.
For this weeks selection I chose a dystopian young adult novel titled Possession by 2011 debut author Elana Johnson.  The premise sounds really good and the cover is very striking and unique. I'm still loving the dystopian genre and it sounds like this one has a love triangle too. Can't wait to read it! Possession is due out June 7 2011.
From Goodreads:
Vi knows the Rule: Girls don't walk with boys, and they never even think about kissing them. But no one makes Vi want to break the Rules more than Zenn…and since the Thinkers have chosen him as Vi's future match, how much trouble can one kiss cause? The Thinkers may have brainwashed the rest of the population, but Vi is determined to think for herself.

But the Thinkers are unusually persuasive, and they're set on convincing Vi to become one of them…starting by brainwashing Zenn. Vi can't leave Zenn in the Thinkers' hands, but she's wary of joining the rebellion, especially since that means teaming up with Jag. Jag is egotistical, charismatic, and dangerous–everything Zenn's not. Vi can't quite trust Jag and can't quite resist him, but she also can't give up on Zenn.

This is a game of control or be controlled. And Vi has no choice but to play.
Book Title: Possession
Author: Elana Johnson
Publisher: Simon & Schuster
Publication date: June 2011
Genre: Young Adult
Format: Hardcover
For information on more young adult dystopian novels due out next year check out the Debut YA Dystopian Writers blog The League of Extraordinary Writers. You can also follow Elana Johnson on her blog, or on twitter.
What are YOU waiting on this week?
Related Posts