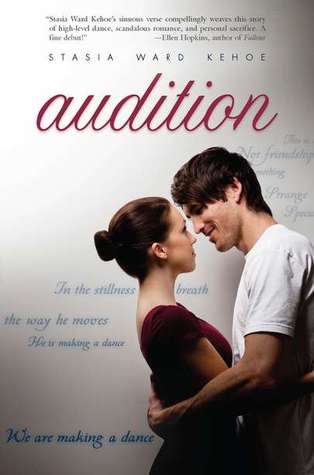 Book: Audition by Stasia Ward Kehoe, Viking Juvenile, October 13, 2011
Genre: Young Adult Contemporary
Series: Standalone
Format/pages:  Own Kindle edition, also available in hardcover 458 pages.
Rating: 4 / 5 Stars
More Info: LibraryThing | Goodreads
Buy the Book: Amazon
Sara leaves small town life behind when she earns a scholarship to study dance with an exclusive company in the city. Now living in a host family's home, she has to re-learn all she knew about ballet as she enters this new competitive world. She begins an addictive relationship with Remington, an older aspiring choreographer looking for a muse. But Rem inspires Sara as well to question her own path. Being a dancer is all Sara has ever known, but as her dreams become reality she starts to see a new potential future that she never envisioned.
Audition is Stasia Ward Kehoe's debut and is a novel in verse. This is only the second novel I've read in this writing style, after Lisa Schroeder's The Day Before. I really like this poetic style of writing; it is to the point and quickly gets to the heart of the story. The writing says so much with such few words and is emotionally satisfying and fast to read. Audition gives an interesting glimpse into the life of a dancer, and shows how unglamorous and challenging things are behind the scenes. Though there is a lot of dancer terminology of interest to those knowledgeable of this life or have always wanted to learn more, the story is more of a coming of age that anyone can relate to.
Sara struggles with keeping up with the more experienced dancers as she juggles her daily dance classes with the demands of high school and college prep. She seems more mature than other girls her age since she is living away from home and living her dream while embarking on her first relationship. But she does have insecurities and has some errors in judgments along the way as she tries to find her path. I liked her strength and perseverance and found her an engaging main character. Her relationship with the elusive Rem is more mature and pushed more boundaries than usually found in YA books.
In the background of the world of competitive dance we see the dark side including eating disorders, competition, jealousy, dancing through injuries and the demand to always put dance first in your life.  It is interesting to see the dedication to this life and what it takes to succeed, and the normal everyday high school experiences you must leave behind.
Audition is an intriguing coming of age about finding your way and gaining the courage to make choices in life. The creative backdrop of ballet gives a new fascinating dimension to the story that sets it apart. I highly recommend this contemporary debut.
Watch the Book Trailer:
Related Posts