I'm excited to welcome debut author Kiki Hamilton to the blog today. I recently raved about her book The Faerie Ring and was thrilled to get the chance to interview her in my first ever author interview. Thanks for indulging my questions, Kiki!
After reading the interview be sure to enter the giveaway to win a copy of The Faerie Ring. First, let's learn more about the book from the author herself:
1. Your main character Tiki loves to read and frequently borrows books from Mr. Potts's bookstore. What recently released book do you think Tiki would enjoy? 
I think Tiki would enjoy reading THE NIGHT CIRCUS by Erin Morgenstern. It's about a duel between two magicians set at the turn of the century.
2. I was reminded of Cinderella when Tiki attends the royal masked ball, and noticed the comparison to Oliver Twist, the book Rieker is reading. Are there any other favorite fairy tales or works of literature that you would like to incorporate in future books?
It wasn't my intention to fashion the story after those two books – I think almost every girl dreams of wearing a beautiful ball gown at some point in their life and that's more of what inspired that scene than Cinderella. Same with Oliver Twist – though Oliver and Tiki are both pickpockets in Victorian London, beyond that, the stories are not similar at all. Pickpockets were a reality in that era and happened to be a thread in both stories.  I can't think of any other fairy tales at this time that fit with what I'm writing. Maybe I'll create a new faerie tale!
3. You have an effortless writing style that seems well suited to many types of stories. Would you consider writing a book in a different genre in the future?
Thank you so much! The answer is yes! I just finished writing a YA contemporary called THE LAST DANCE that I loved writing. So much fun.
4. Victorian London is showcased and comes alive in The Faerie Ring. Are there any other destinations you'd like to explore in future books?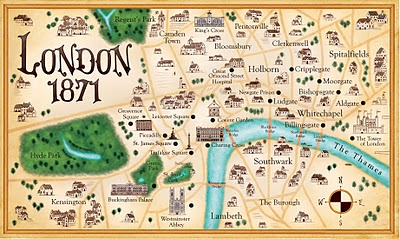 There is more of London that is visited in future books in the series. Also, part of the story deals with the Irish Faerie court, so Ireland does play a part in the series.  Ireland is visited in a companion novel that I haven't decided if I will write yet, (but I know the plot) and may appear in future books. I'm writing another YA book that has nothing to do with THE FAERIE RING that is set in London 1895 and I sort of think that I might set a story in Paris some day.
5. Speaking of Victorian London, in choosing that setting were you inspired by Sherlock Holmes or Jack the Ripper at all?
I wasn't. Both Jack the Ripper and Sherlock Holmes existed in the 1890's and THE FAERIE RING is set in 1871.
6. What was your favorite chapter or scene to write and why?
I like the scene where Tiki is in Buckingham Palace and dances with Prince Leopold and meets William Richmond. I still laugh at the part where Leo sees Tiki's wrist. (Lucy's Note: That is one of my favorite scenes too!)
7. Which of your character's do you identify with the most?
I probably identify with Tiki most, because I understand her desire to care for Clara and the other members of her family.  Also, like Tiki, I'm willing to take risks to get what I want.
8. I notice the similarity between your name and the main character's. Any insight there?
Well, this sounds silly (or totally Freudian) but I didn't even realize the similarity until after the fact. I'd already written the story and several months later when I was looking for web domains my real name was everywhere, so I picked one of my very favorite names as a pen name, which also happened to be fairly uncommon. It wasn't until months later I realized the two were similar.
9. When you were writing the book did any of your characters surprise you and inspire you to take their character in a different direction?
My characters always surprise me. Larkin is a very complicated character. I really enjoy writing her – there's alot more to learn about all of the characters as well as a few new characters who are involved.
10. Can you give us any hints on what to expect in the sequel The Torn Wing? Will we see more of The Otherworld?
Though parts of the second book are set in London, a much bigger part is set in the Otherworld. New characters are introduced and secrets are revealed.
Thank you so much for having me on your blog!!
Thank you for taking the time out of your busy schedule to answer my questions. I eagerly await the release of the sequel The Torn Wing and also The Last Dance.
GIVEAWAY
I'm giving away 1 copy of THE FAERIE RING
The Giveaway has ended
Congrats to the winner: Reut @ reutreads
Thanks to everyone who entered the giveaway!
Related Posts