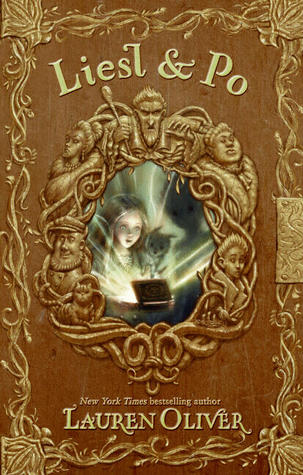 Book: Liesl & Po by Lauren Oliver, Illustrated by Kei Acedera, HarperCollins, October 4, 2011
Genre: Middle Grade Fantasy
Format/pages: eGalley provided by NetGalley, available in Hardcover (307 pages)
Rating: 5 / 5 Stars
More Reviews: Goodreads
Liesl & Po is Lauren Oliver's charming middle-grade debut. I have greatly loved this author's YA books, and though each book is vastly different, her wonderful storytelling is consistent. Ms. Oliver always manages to surprise and impress me with the emotional depth of her characters.  Liesl & Po is no different and I enjoyed the dark, magical ghost story feel to it and all the whimsical characters. This deeply personal story is inspired by the death of the author's best friend, and is something that haunted the pages as I read the book. I think many will be able to relate to the subject matter, and will enjoy the fantasy elements involved as well. To use Liesl's favorite word, I enjoyed the story ineffably much.
Like a fairy tale, the story begins with Liesl, a young girl who has been locked in an attic by her evil stepmother. Her father has recently died, and now she's on her own, drawing pictures in the attic. One night a ghost named Po and his ghostly pet Bundle pop in and she asks for Po's help to find her father on the Other Side. Meanwhile, a young alchemist's apprentice named Will is sent on an errand to deliver a powerful box of magic, but mistakenly delivers the wrong box. This mix up sets off a sequence of events that brings the story full circle for this eccentric group of characters, and they must go on a journey to make things right.
The story takes place in a bleak, undetermined place where food and money are scarce. The mood is dark, and the setting is literally dark, as the sun hasn't shone for years. But there is a ray of hope in the characters as they work together to help each other along the way. Liesl is courageous, determined and hopeful, even though she has suffered so much in her young life. Po is a ghost of few words, and is someone who needs Liesl as much as she needs him. The ghostly cat/dog Bundle is adorable too and always there to chime in with a "Mwark".  And young Will is sweet in his obvious affection for Liesl. There are many lighthearted moments between the characters that keep the story from ever being too heavy.
The story is magical and endearing, and the fantasy elements make it easy to imagine it as a movie. Though the subject matter is dark, the touching alliance of the characters brings a ray of hope. The illustrations by Kei Acedara are gorgeous and complement the story perfectly. Recommended for fans of Lauren Oliver's writing and those that enjoy middle grade and fantasy books. An enchanting read.
Related Posts