ALL BROKE DOWN is book two in Cora Carmack's Rusk University series, and it now has a shiny new cover and synopsis! This New Adult Contemporary Romance is from William Morrow/Harper Collins is on sale October 28. Time to catch up on All Lined Up now so you are all set for the sequel this fall. Here's more about the book:
ABOUT ALL BROKE DOWN:
In this second book in New York Times and USA Today bestselling author Cora Carmack's New Adult, Texas-set Rusk University series, which began with All Lined Up, a young woman discovers that you can't only fight for what you believe in . . . sometimes you have to fight for what you love
Dylan fights for lost causes. Probably because she used to be one.
Environmental issues, civil rights, corrupt corporations, and politicians—you name it, she's probably been involved in a protest. When her latest cause lands her in jail overnight, she meets Silas Moore. He's in for a different kind of fighting. And though he's arrogant and infuriating, she can't help being fascinated with him. Yet another lost cause.
Football and trouble are the only things that have ever come naturally to Silas. And it's trouble that lands him in a cell next to do-gooder Dylan. He's met girls like her before—fixers, he calls them, desperate to heal the damage and make him into their ideal boyfriend. But he doesn't think he's broken, and he definitely doesn't need a girlfriend trying to change him. Until, that is, his anger issues and rash decisions threaten the only thing he really cares about, his spot on the Rusk University football team. Dylan might just be the perfect girl to help.
Because Silas Moore needs some fixing after all.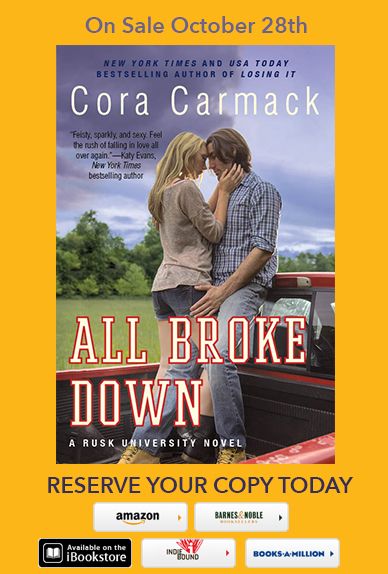 Pre-Order Your Copy Today!
And don't forget to grab your copy of ALL LINED UP Today!
About Cora Carmack:
Cora Carmack is a twenty-something writer who likes to write about twenty-something characters. She's done a multitude of things in her life– boring jobs (like working retail), Fun jobs (like working in a theatre), stressful jobs (like teaching), and dream jobs (like writing). She enjoys placing her characters in the most awkward situations possible, and then trying to help them get a boyfriend out of it. Awkward people need love, too. Her first book, LOSING IT, was a New York Times and USA Today bestseller.
Related Posts