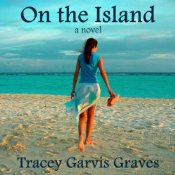 Audiobook: On the Island by Tracey Garvis Graves, published by the author, April 20, 2012
Book Info: Romance, Own Audiobook. Running time: 7 hrs, 3 mins. Read by: Heidi Baker. Also available in PB, 336 pages from Plume.

Rating: 3.5 / 5 Stars, A perfect vacation read to tuck in your beach bag.
More Info:  Goodreads | Audible | Amazon
On the Island is a book I heard a lot of hype about last summer. The cover just screams beach read, doesn't it? I finally picked it up when it was on super sale at Audible.  I can see why it's such a popular book. There is something about being stuck on a deserted island that's intriguing. Well, reading about it that is. As someone who doesn't even want to go camping for a weekend it's my worst nightmare to be lost on an island, but the story fascinated me all the same. Like another island mystery, LOST, I felt compelled to keep listening and see how it would all turn out.
Anna is a thirty-year-old teacher who was hired to tutor sixteen-year-old T.J. over the summer. He's in remission from cancer and has a lot of ground to make up. They board a seaplane to join T.J.'s parents in the Maldives. The pilot has a heart attack and crashes the plane in the Indian Ocean, leaving Anna and T.J. on their own and fighting for survival.  They rely on each other to find food and shelter, and to fend off illness and vicious island creatures. Before long, the relationship is more man-woman than teacher-student, which brings on a whole new level of problem.
Anna and T.J. have to start from scratch to find a way to survive on the island. They have a few supplies from the plane that make it easier but it's still pretty rough conditions. The island descriptions are vivid and I felt like I was right there with them. Some of the details were more than I wanted and I couldn't imagine going through that situation.
The story is told in both Anna and T.J.'s POV, and I really appreciated getting both perspectives. Graves does a good job fleshing out the characters and making me care for them. When I started the book I wasn't sure if I could buy into a relationship between the pair, but it did feel natural given the situation.
I listened to the audiobook of On the Island. The author published the audiobook herself and the narrator is Heidi Baker. The narration is not my favorite ever, but the story is so addictive that I zipped through it anyway. Sometimes it was hard to tell if T.J. or Anna was speaking, except in context, and ideally I would have preferred two narrators to make the voices more distinct. Baker has a bubbly voice and is a fast reader. I tend to like readers to read quicker rather than slower, though it wasn't always the best choice for this book, which called for more tension and emotion. Listen to a sample to see if this audiobook is a fit for you.
On the Island is a good book to take on vacation, though it might make you nervous to read in-flight. It is easy to get lost in and has an easy, quick pace. I'll definitely look out for more books by this author, in fact there's an On the Island novella called Uncharted coming out this fall, as well as a new book called Covet. Hope to see this one on the big screen someday.
Related Posts