Hey, New Adult fans (and Veronica Rossi fans!) get ready for Boomerang, the first book in a new trilogy by Noelle August! Fun fact: Noelle August is the pen name of co-authors Veronica Rossi (Under the Never Sky) and Lorin Oberweger. I am excited that Rossi is trying her hand at Contemporary, my favorite genre!
Boomerang sounds super cute, and the cover is even cuter. Behold…Boomerang!!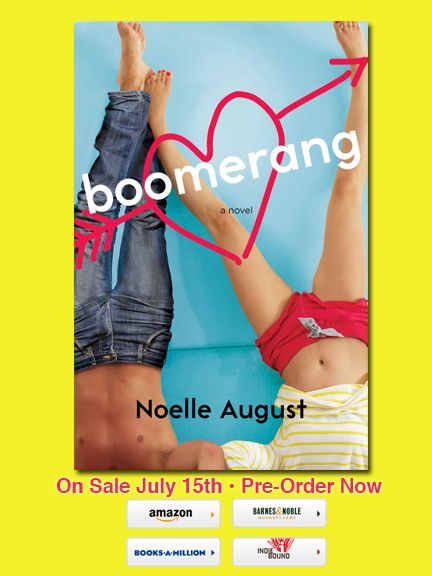 Boomerang is On-sale 7/15/14 from William Morrow Paperbacks, 304 pages, $13.99
The cover is so bright and summery, and the cover models are doing headstands! I bet you want to know what this book is about:
Welcome to BOOMERANG, the hottest startup in the coolest city: Los Angeles, CA. Why? Because it's about no-strings, no-fuss relationships for those on the rebound and those who crave connection without all the baggage of long-term promises. While it's THE dating site for the millennial gen, their offices are even steamier than the hook-ups the website produces.

But that buzz is fading as Boomerang struggles to grow, the solution? Find two brilliant interns and give them a crack at turning this ship back to shore.

Enter MIA GALLIANO and ETHAN VANCE. These young strangers—Mia an aspiring filmmaker, and Ethan at the end of a collegiate sports career—are both bright and motivated. And for very different reasons, although they're both hungry and way up for the challenge.

But things go wrong from day one. For one thing, Ethan and Mia aren't strangers. The night before their stint at Boomerang begins, Ethan and Mia meet at a bar and fall into bed together. Or so they think. They're both hazy on the details. They just know it's aaaawkward when they share a post hookup taxi…to the same place.

Will the competition get to them, or do they have a future together?
Sounds like Mia and Ethan have a Meredith/Derek Grey's Anatomy type intro and I can't wait to see what happens when they have to work together.
Read more about Boomerang:
Goodreads * Website * Twitter * Facebook * Veronica Rossi intro's Boomerang (she says "I had an absolute blast writing this book and I can almost, almost guarantee that you will laugh your tushies off and swoon while you read it.")
Something to look forward to July 15th!
Related Posts