I read Leah Raeder's debut Unteachable at the end of last year, and it instantly skyrocketed to my New Adult favorites list. I am scandalously late in reviewing it, but I'll re-read it soon, don't you worry. Unteachable features a boundary pushing romance that will take you out of your comfort zone. It has a strong voice, and an edge to it that hooks you in. Now, thanks to a new partnership with Atria Books Unteachable has a new cover, and bonus, you'll soon be able to buy the book in your local store! (Well, in November, but you can buy the ebook now)  I bought the self-published ultra rare paperback version of Unteachable last year, but I've gotta say I'm tempted by the shiny new version. Here's the new cover- hooray!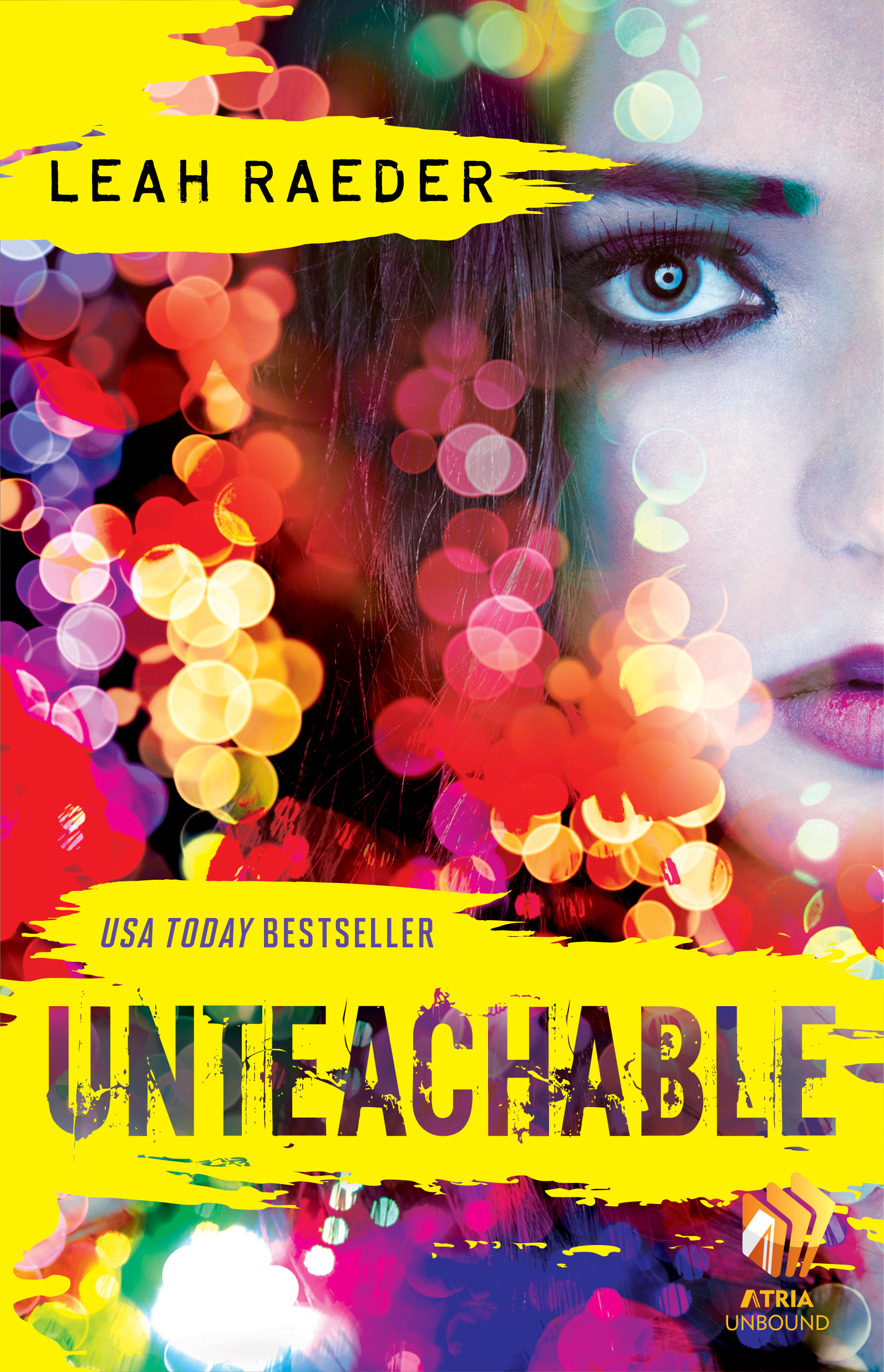 UNTEACHABLE by Leah Raeder eBook: Atria Books | 320 pages | ISBN 9781476786414 | March 24, 2014| $3.99 Paperback: Atria Books | 320 pages | ISBN 9781476786407 | November 11, 2014| $15.00 List Price
E-Book On Sale Now: Amazon Barnes & Noble
Paperback On Sale November 11: Amazon Barnes & Noble
  I like that the new cover features the bright rainbow of colors found on the original cover, but with some new awesome bubble details. The font also has an edgy bold look that contrasts the pretty to give a hard edge. The cover model has a strong look and attitude that fits my impression of Maise. Striking! Kudos to all involved! And hey, author Leah Raeder has a note for you Unteachable fans-to-be:
Dear Awesome Readers, My favorite thing about the emerging New Adult category—stories about people age 18 to 26-ish, in that formative part of life between teen and true adult—is that you can push boundaries in ways rarely seen elsewhere. There's all the rawness and intensity of being young, which YA captures so well—but there's also the grit and passion of adult fiction. NA is smack in the middle, and Unteachable is a book with one foot firmly planted to either side of that divide. It's controversial. It may make you uncomfortable. It may take your breath away. I hope it does both at once, and gives you that quintessential New Adult thrill of standing on the edge between being young and being wise, with the whole wide world at your feet. Thank you for reading. Much <3, Leah Raeder
About Unteachable:
Maise O'Malley just turned eighteen, but she's felt like a grown-up her entire life. The summer before senior year, she has plans: get into a great film school, convince her mom to go into rehab, and absolutely do not, under any circumstances, screw up her own future. But life has a way of throwing her plans into free-fall. When Maise meets Evan at a carnival one night, their chemistry is immediate, intense, and short-lived. Which is exactly how she likes it: no strings. But afterward, she can't get Evan out of her head. He's taught her that a hookup can be something more. It can be an unexpected connection with someone who truly understands her. Someone who sees beyond her bravado to the scared but strong girl inside. That someone turns out to be her new film class teacher, Mr. Evan Wilke. Maise and Evan resolve to keep their hands off each other, but the attraction is too much to bear. Together, they're real and genuine; apart, they're just actors playing their parts for everyone else. And their masks are slipping. People start to notice. Rumors fly. When the truth comes to light in a shocking way, they may learn they were just playing parts for each other, too. Smart, sexy, and provocative, Unteachable is about what happens when a love story goes off-script.
About the author:
Leah Raeder is a writer and unabashed nerd. Aside from reading her brains out, she enjoys graphic design, video games, fine whiskey, and the art of self-deprecation. She lives with her very own manic pixie dream boy in Chicago. Visit her at LeahRaeder.com, or follow her on Twitter or Facebook.
Congrats to Laura who won the Unteachable kindle edition!
Related Posts