You all told me how amazing this book was and I finally read it to see for myself! Aristotle & Dante covers the big stuff like love, friendship, culture, family, sexuality, and violence. But Benjamin Alire Sáenz makes this powerful story go down easy with his precise prose. It's smart, accessible, and satisfying, and a standout GLBT YA Fiction title.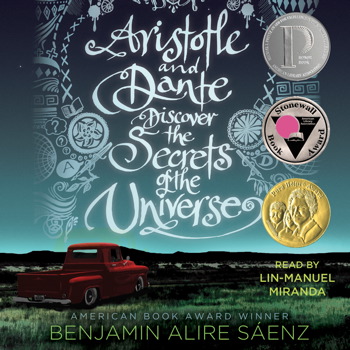 Book: Aristotle and Dante Discover the Secrets of the Universe by Benjamin Alire Sáenz, Simon & Schuster Audio, April 2013
Book Info: Audiobook received for review from Simon & Schuster Audio. Running time: 7.5 hours. Read by: Lin-Manuel Miranda. Also available in e-book or paperback, 368 pages from Simon & Schuster Books for Young Readers.
The Story – Ari is fifteen, lives with his mom and dad, and is somewhat of a loner. He meets Dante one summer at the pool, and Dante they bond when Dante teaches Ari to swim. The two become fast friends and spend a lot of time together even though they attend different schools. The pair bonds over their Mexican-American culture, family, books, and life in general. Chemistry hums between them, creating tension as they navigate their feelings.
The Characters – Ari is sarcastic, smart, and sensitive.  He misses his imprisoned older brother, someone his parents refuse to talk about. His relationship with his parents is strained and Ari is having a hard time of it before he meets Dante. Dante is open, sunny and friendly. He has an easy, close relationship with his parents, though there are still some secrets he keeps to himself. Ari and Dante click immediately as friends, and bring out the best in each other. They pledge to always be honest, but agree to keep some topics off limits. Dante's parents and Ari's parents also become fast friends, strengthening each family unit, as Ari's parents begin to let him in more.
The Setting – Aristotle & Dante is set in Texas in the 80s, when there were no cell phones, social media, Internet and the like. (How did we survive is what my daughter wants to know) If you want to hang out with your friends, you have to call the house phone to make plans or just show up at their door.  Ari and Dante spend a lot of time in Dante's room, or driving around in Ari's truck and stargazing. They spend some time living in different cities and keep in touch by writing actual letters. I think the historical setting works nicely with Ari and Dante's story, and isn't gimmicky.
The Secrets of the Universe  – Each of the characters has something to hide- for instance, Ari's dad keeps his war stories to himself, and Ari's mom won't talk about Ari's older brother.  Although Dante has a great relationship with his parents, and they are loving and supportive, he doesn't feel comfortable completely being himself- he doesn't want to disappoint them.  Ari is struggling with his feelings as well, and can't admit them to himself, let alone his friends and family. This age is interesting because the teens start to see their parents as real people, and the parents also start to let their kids in more and treat them as adults. Another theme of the book is culture- as Ari & Dante talk frequently about their Mexican-American heritage. And as the title suggestions, Ari & Dante are pondering life's Big Questions.
The Writing – This is a lovely, lovely book. Sáenz writes an honest, topical, timeless, touching story that's deserving of all its many awards. (Printz Honor, Stonewall Award, and Lambda Award to name a few)
The Audiobook – Lin-Manuel Miranda very capably performs this audiobook. He really gets to the essence of the characters with his performance, and reads with personality, humor, and heart. His Dante is spirited and full of life, while Ari has that sardonic sense of humor. Miranda's pace and tone are appropriate to the story, and the performance enhances Sáenz's  beautiful words.
Read Aristotle and Dante if you like: literary YA, coming-of-age stories, and authors like David Levithan, Meg Medina, and A.S. King.
Congrats to Anne who won an Aristotle & Dante audiobook!
Related articles
Related Posts