Cora Carmack's new book All Lined Up is set to hit shelves May 13th, less than two weeks from today!  All Lined Up is a New Adult book about friendship, flirtation, and football and has a Friday Night Lights flavor to boot. Read on to find out more about the characters, take the Stella or Dallas quiz, and enter to win an All Lined Up ebook!
One of the central friendships of the book is between Dallas and Stella, and these two couldn't be more different:
Dallas Cole is the football coach's daughter, and a dance major. She was eager to go to college for some breathing room, but lo and behold her dad took the coach's job at her school.  Dallas is guarded and awkward and her BFF Stella challenges her to have a little more fun.
Speaking of Stella Santos, she's the party girl who says yes first and takes questions later. She's sassy and confident, and says what she means. I think opposites attract friendships are some of the best kinds, and Dallas and Stella are a case in point.
One system that keeps these besties sane is their give and take stamps of approval/disapproval. These stamps explain a lot about these two:
Not ready to face your morning class?
And Dallas gives that a No.
Put off till tomorrow what you can do today? Stella says:
And Dallas says there's no time like the present:
Need a Fake ID? Stella says of course!
While Dallas would prefer to keep things on the up and up: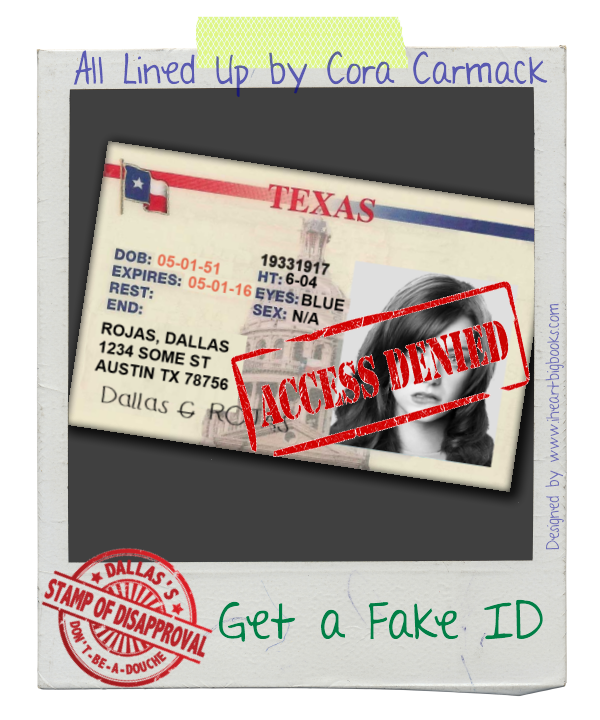 So, do you think you're a Dallas or a Stella? Before I took the quiz I could have sworn I was a Dallas, but I guess I have a little Stella in me after all. I think it's because I'm such a procrastinator!
Congrats to Victoria who won an All Lined Up e-book and swag!
All Lined Up is on sale May 13. Find out more:
Preorder: Amazon * B&N * IndieBound * Signed copies available at Word Bookstore
Read reviews and preview the book: Goodreads * Excerpt 
Related Posts