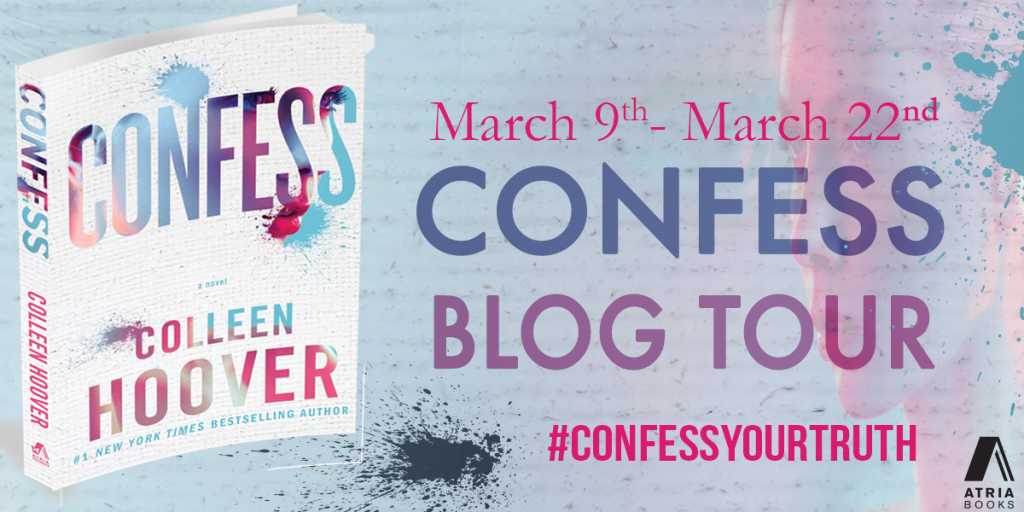 Colleen Hoover is a favorite author of mine and so I was really excited to get the chance to read her latest book Confess a little early AND to help kick-off the CONFESS blog tour! I love the emotion and heart in Hoover's books and Confess is another intense story of love, sacrifice, and yes, confessions. The paint splattered cover is in reference to the male lead in Confess (he's an artist), and this book is about the secrets we keep and the sacrifices we make to protect those we love.
Read on to find out more about the book, what I thought of Confess, and how you can win a signed print of one of the paintings from the book and/or a signed copy of Confess.
CONFESS by COLLEEN HOOVER
Atria Books | On Sale March 10
From #1 New York Times bestselling author Colleen Hoover, a new novel about risking everything for love—and finding your heart somewhere between the truth and lies.

Auburn Reed has her entire life mapped out. Her goals are in sight and there's no room for mistakes. But when she walks into a Dallas art studio in search of a job, she doesn't expect to find a deep attraction to the enigmatic artist who works there, Owen Gentry.

For once, Auburn takes a risk and puts her heart in control, only to discover that Owen is keeping some major secrets from coming out. The magnitude of his past threatens to destroy everything important to Auburn, and the only way to get her life back on track is to cut Owen out of it.

The last thing Owen wants is to lose Auburn, but he can't seem to convince her that truth is sometimes as subjective as art. All he would have to do to save their relationship is confess. But in this case, the confession could be much more destructive than the actual sin…
Find Confess: Goodreads | Amazon | B&N | IndieBound
In Confess, Auburn is a girl who has just moved to Dallas and is trying to make ends meet. She works at a hair salon but could use a little extra income and happens upon a Help Wanted sign outside an art studio. Inside she meets the resident artist Owen. Owen is a collector of confessions who creates art based on other's deepest secrets. Owen and Auburn have instant chemistry, though both have their own secrets they are not ready to confess.
Auburn and Owen share the same middle name and also a mournful past. There is some mystery about the two of them, and a hint that there is more of a connection between them than we know. Part of the fun of this book is trying to put together the pieces of the mystery.
Individually, Auburn and Owen are interesting people. Auburn is a likable and strong heroine, who does what she has to do to survive and keep a promise. Owen is thoughtful and kind, and a creative-type who is impulsive and mysterious. Both characters have complicated back-stories that are as compelling as their romance.
There is a quick connection and attraction between Owen and Auburn, so much that it feels like their relationship is too good to be true. However, the sense of destiny and fate is a thread throughout the novel so I just went with it. These two don't have it easy either and have to fight for every moment together.
Speaking of which, there is a villainy villain in this story who is the worst! He's definitely a thorn in Owen and Auburn's side.
Colleen Hoover once again creates flawed and damaged characters to root for. One thing I'm always looking for as a reader is an emotional story to get lost in. Hoover is a go-to author for me for stories that tear me apart and put me back together again. I savored Confess and enjoy seeing Hoover evolve as a writer. She keeps surprising me and there were even a few twists in Confess that I wasn't expecting.
One note about the confessions in Confess– they are actual confessions sent in anonymously to the author. The book also includes Owen's paintings, which I think is a very cool detail. The descriptions really made me eager to see them, though they were not included in my e-arc. I need to get my hands on a paperback, stat!
Confess is on sale tomorrow and is a must-read for CoHo fans. Read it and let me know what you think!
Giveaway!
Be sure to visit Atria Books 3/9-3/22 for your chance to win a grand prize of a signed framed print of one of the images in the book plus a signed copy of CONFESS or one of the runner up prizes of one of four signed copies of CONFESS. Enter here.
Thanks to AtriaBooks for hosting this tour and for the review copy of Confess! I did not receive any Owen-Cat's, free haircuts, confession paintings, tents, Target gift cards or cheese fries in exchange 🙂
About the Author:
Colleen Hoover is the #1 New York Times bestselling author of Slammed, Point of Retreat, This Girl, Hopeless, Losing Hope, Maybe Someday, Finding Cinderella, and Ugly Love. She lives in Texas with her husband and their three boys. Please visit ColleenHoover.com.

Connect with Colleen: Website | Facebook | Twitter | Instagram
Related Posts