Audiobook Week is hosted by Devourer of Books and continues today with a new discussion prompt:
Audiobook Tasks

What do you do while you listen? Any particular tasks or games that you find amazing for audio time?

My preferred way to listen to audiobooks is on my iPhone, and that allows me to take my book with me wherever I go.
Audiobooks are my saving grace for all kinds of household tasks. I listen when I'm:
Doing dishes
Folding laundry
Cooking
Also I listen when I'm online:
Doing financial tasks like Quicken
Leaving blog comments or drafting meme posts
I don't play too many games, but I listen when I do play:
Candy Crush and Words with Friends
I listen when I'm Out and About: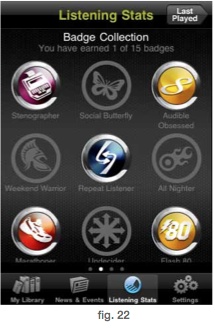 Exercising
Commuting
I'm also addicted to Spotify so sometimes music competes for my audio attention. But since school's out and my daughter and I share a Spotify account I'm not listening to that much music lately.
A question for all of you audiobook reviewers:
Since I'm busy with other tasks while I'm listening it's not really convenient to take review notes. When I listen using the Audible App I can add bookmarks to refer to later, but I'm wondering if anyone has a process that's working really well for them. What I do now is jot down notes after I've listened to the whole audiobook.
Do you take review notes when you listen to audiobooks? Hit me up with some tips!
Related Posts