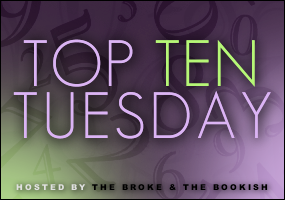 Top Ten Tuesday is an original feature from The Broke and the Bookish. This week's topic is the Top Ten Books I Want To Reread.
There are some favorite books I reread for comfort, or when I'm stuck in a reading rut and need to reread a favorite when nothing else is grabbing me. But a lot of times I reread books to gear up for seeing the movie version. I reread If I Stay and Gone Girl this summer and I'm hoping to fit in other rereads next year.
These are the book-to-film adaptations I want to reread:
Mockingjay by Suzanne Collins – Part 1 is in theaters Nov. 21; part 2 follows a year later. I borrowed the audiobook for this one earlier this year (recommended) but I might reread it again after seeing the movie to compare. Can't wait!
The Duff by Kody Keplinger -This film is due out Feb. 2015 thought I haven't heard much about the production. It stars Mae Whitman (love her!) and Bella Thorne and Robbie Amell.
Insurgent by Veronica Roth – In theaters March 20. I don't relish rereading the series finale Allegiant, but I'll dust off my copy of Insurgent to brush up on before opening night.
Outlander by Diana Gabaldon – I'm cheating a little here since this is a TV series rather than a feature film. But, the book is so long each episode is like a movie really. I'll probably need a refresher before the series returns April 4.
Paper Towns by John Green – Now shooting, and John Green is on set sharing photos. Paper Towns stars Nat Wolff and Cara Delevingne and hits theaters June 19. I actually had a hard time getting through the book, but I have the audiobook now and will give it another listen.
Me Before You by Jojo Moyes – I recently heard that Sam Claflin and Emilia Clark are starring/ or in negotiations to star. IMDB shows a release date of Aug. 2015. I need to psych myself up to reread this tearjerker – I hope the movie does the book justice.
Frankenstein by Mary Shelley – In theaters Oct. 2015, this adaptation stars Daniel Radcliffe, James McAvoy, and Andrew Scott. It's been awhile since I've read this one, but I have a copy from Random House Audio from their Halloween promo, so why not?
The Fifth Wave by Rick Yancey – IMDB says the release date is Jan. 2016, so we have plenty of time to reread this one! Chloë Grace Moretz is signed on to star.
A Monster Calls by Patrick Ness – This movie is due way out in Oct. 2016, and Liam Neeson, Felicity Jones and Sigourney Weaver are attached to star. I am really curious to see how the filmmakers bring this book to life.
Eleanor & Park by Rainbow Rowell – I haven't heard much about this since the announcement that DreamWorks Studios picked up the rights, and Rowell is working on the screenplay. The April EW article says DreamWorks hopes to start shooting next year.
Do you like to reread books before seeing the movie? Excited to see any of these books hit the big screen?
Related Posts