Mailbox Monday is a weekly event where we share our latest book arrivals. Link up and find new mailboxes to stalk at the Mailbox Monday blog!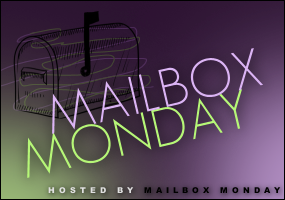 Well, it's like summer again here. We are all wearing shorts in mid-November, sigh. This week we went to the movies and saw The Book of Life (cute!) and Andrew saw Interstellar (he liked it). We also scored Comic-Con tix for next year (so relieved). How was your week?
Here's my week in books:
eBooks for review:
None of the Above by I.W. Gregorio – This book is high on my list of YA 2015 debuts so I was happy to see it on Edelweiss. It's about gender issues and features an intersex protagonist.
You Were Mine by Abbi Glines – Book 9 of the Rosemary Beach series. I've only read book one so hopefully I can jump back into it.
Infandous by Elana K. Arnold – A Venice Beach unfairytale featuring mother/daughter drama and sexuality issues.
Finding Paris by Joy Preble – Leo looks for her missing sister, Paris, whose gone missing in Las Vegas.
Omega City by Diana Peterfreund – The first book in a new MG series described as "City of Ember meets The Goonies."
Devin Rhodes is Dead by Jennifer Wolf Kam – Cass' best friend Devin dies at fifteen, and Cass is haunted by their past.
Magonia by Maria Dahvana Headley – Neil Gaiman says, "Maria Dahvana Headley is a firecracker: she's whip smart with a heart, and she writes like a dream." Aza has lung disease but when she travels to a fantasy world (Magonia) she can finally breathe.
The Kiss Before Midnight by Sophie Pembroke – A holiday novella set in Liverpool. Molly goes home for Christmas to rekindle last year's flirtation, but sees they have the potential for something more.
Library Audiobooks:
My True Love Gave to Me edited by Stephanie Perkins – 12 holiday stories, 12 audiobook narrators!
Wolf in White Van by John Darnielle, narrated by the author – While recuperating from an accident Sean retreats and develops a role-playing game that takes on a life of its own.
Exquisite Captive by Heather Demetrios, narrated by Erin Mallon – Inspired by Arabian Nights, Nalia is a jinni who wants her freedom so she can save her younger brother, Along the way she gets caught in a  love triangle.
Thank you so much to: Balzer + Bray, Atria Books, Carolrhoda Books, HarperCollins, Jen Kam, HarperImpulse
What's new in your mailbox?
Related Posts