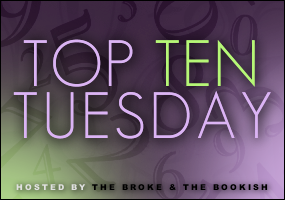 Top Ten Tuesday is an original feature from The Broke and the Bookish. This week we're counting down the books we'd like to see as movies or TV shows. The summer movie season is in high gear though I usually gravitate to the smaller indie films rather than big popcorn movies. I'll go see the book adaptations like Paper Towns and Me & Earl and the Dying Girl, but I wish there were more rom-com book adaptations so that's what my list is mostly focused on.
Top Ten (Mostly) YA Books I'd Like to See as Movies:
Legend by Marie Lu– I feel like maybe this film project has stalled; though I still think it would make a kick-ass movie!
Where She Went by Gayle Forman – The If I Stay movie came out okay, don't you think? I'd love to see Adam's companion book get the big screen treatment as well!
Just One Day / Just One Year by Gayle Forman – I'd be interested in seeing the Paris adventure come to life. Forman's descriptions are so vivid I can already picture the film. Universal optioned both books for one combo movie and I hope that it moves forward!
Dash & Lily's Book of Dares by Rachel Cohn & David Levithan  – Holiday-themed movies are so fun, and the New York notebook / scavenger hunt would be a treat to see play out. Five years ago there was word that Lena Dunham was attached to write/direct but I haven't heard anything since.
Simon vs. the Homo Sapiens Agenda by Becky Albertalli – Simon and Blue's digital love story plays like a rom-com, and could be a really sweet movie.
Anna and the French Kiss by Stephanie Perkins – I hope to see one of my all-time favorite YA rom-coms in the theaters someday.
Also Known As by Robin Benway – Wouldn't it be great to see a Manhattan teen spy adventure movie about a female safe cracker?
Fangirl, Attachments, and Landline by Rainbow Rowell – I know Eleanor & Park is in the works, but let's just make all the Rainbow Rowell books into movies! My first thought was that Attachments especially would work as an office romance/Y2K story but really I want to see them all.
Also, I totally agree with this MTV list of Diverse YA books that need to be movies – let's make that happen, Hollywood powers that be!
What is your opinion on book adaptations? What do you want to see as a movie/TV adaptation?
Related Posts