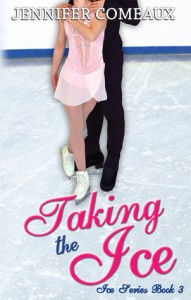 Taking the Ice
by
Jennifer Comeaux
Series:
Ice #3
Published by
Jennifer Comeaux
on August 17th 2015
Genres:
Coming of Age
,
Contemporary
,
Love & Romance
,
New Adult
,
Winter Sports
Pages:
132
Format:
eBook
Source:
Publisher
Goodreads
Also by this author:
Losing the Ice
Olympic rings and an engagement ring.

Courtney Carlton is ready for both.

She and her boyfriend Josh have skated together and dated for four years, and they've reached a critical point in their partnership both on and off the ice. With the Winter Games coming up and their career nearing an end, they are fighting to win a spot on the Olympic team, something Courtney has dreamed of since she was ten years old. She also has another wish she hopes comes true soon. She's waiting for a marriage proposal from Josh that she expected to happen by now. Will she realize either dream or will her heart be broken from disappointment?
Taking the Ice is the final book in Jennifer Comeaux's Ice trilogy. This series is about an ice skating couple that dreams of making it onto the US Olympic team. This is Courtney and Josh's last shot – will their dreams come true on and off the ice? This novella is a sweet and satisfying conclusion to the trilogy.
The ice skating scene in the Ice series provides lots of opportunity for drama and excitement as Olympic hopefuls Courtney and Josh give it their all. I don't know a lot about the sport (other than occasionally watching on TV) but the author's enthusiasm and knowledge for the sport comes through. You get to see all the blood, sweat and tears behind the glamour of it all.
Through this series, we see that Courtney and Josh pay their dues and have to overcome financial struggles, parental disapproval, medical setbacks, and their competitors to reach their goals.
The ice skating scenes in Taking the Ice are suspenseful and breathtaking. The stakes are high for the pairs skaters and it's nail-biting all the way to the end.
In this series, we see how family plays a role in Josh and Courtney's life. Josh's ice queen mother is a thorn in their side though Josh's sister becomes an unlikely ally. Josh and Courtney have the support of their skating coaches and their guardian angel and biggest cheerleader Mrs. Cassar. We see that family isn't always the people you're born with – maybe in this case ice is thicker than blood.
I enjoyed following Josh and Courtney's journey and rooted for their happy ending. Their romance was fun to watch and bursting with chemistry.
I listened to the first two books in audio and I didn't this time around though I still had the narrator's voice in my head. The books are just as enjoyable in print or audio.
This is an engaging, romantic series for fans of sports romance and/or ice-skating. I look forward to reading Jennifer Comeaux's next books and catching up with her previous Edge series.
The Taking the Ice novella is on sale today and now the trilogy is complete. Read the series in order:
Related Posts