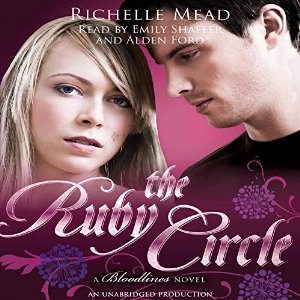 The Ruby Circle
by
Richelle Mead
Narrator:
Alden Ford
,
Emily Shaffer
Series:
Bloodlines #6
Published by
Listening Library
,
Penguin
on February 10th 2015
Genres:
Friendship
,
Love & Romance
,
Paranormal
,
Social Issues
,
Young Adult
Pages:
368
Format:
Audiobook
Length:
10 hrs. 9 mins.
Source:
Library
Buy on Amazon
Goodreads
The epic conclusion to Richelle Mead's New York Times best-selling Bloodlines series is finally here.... Sydney Sage is an Alchemist, one of a group of humans who dabble in magic and serve to bridge the worlds of humans and vampires. They protect vampire secrets - and human lives. After their secret romance is exposed, Sydney and Adrian find themselves facing the wrath of both the Alchemists and the Moroi in this electrifying conclusion to Richelle Mead's New York Times best-selling Bloodlines series. When the life of someone they both love is put on the line, Sydney risks everything to hunt down a deadly former nemesis. Meanwhile, Adrian becomes enmeshed in a puzzle that could hold the key to a shocking secret about spirit magic, a secret that could shake the entire Moroi world.
With The Ruby Circle we have come to the end of the road for the Bloodlines series! That was fast, wasn't it? When the series started out I didn't think I could like it as much as Vampire Academy, but I ended up enjoying it at least as much. Adrian and Sydney grew by leaps and bounds over the course of the 6-book series, and I loved watching their evolution. I'm sad to see this series end but I'm satisfied with how Richelle Mead left things, and hopeful that Mead will return to write more stories in the VA/Bloodlines world in the future. (The door is open to at least a few possibilities!)
This book picks up right around where Silver Shadows left off, with the search for kidnapped royal Jill Dragomir. Sydney and Adrian are major players in the search and are pulled in different directions to try to find her. However, help is on the way in the form of some old favorite characters. There are also some game-changing twists and surprising developments on their journey!
This book was a big one for Adrian- as his Spirit demons are front and center. Will he give into the darkness or find a way to balance his gift? He's turned into a great leading man over the course of the series, while remaining true to himself.
Sydney has always been an old soul and I like that she loosened up as the series progressed. She's gone through a lot as she's navigated the different worlds and I admire the woman she's become.
There is plenty of action in this installment and Mead's trademark wit to make the pages fly. I loved all the guest appearances and the epilogue to this story. Honestly, there were more OMG big reveals and surprises in the previous two Bloodlines books than in this one, though I think readers will still be satisfied and entertained with this conclusion – I wish it were a tad longer though!
I alternated reading and listening to this one. Emily Shaffer and Alden Ford again read the audiobook. Ford in particular is a wonderful Adrian, and Shaffer captures Sydney's no-nonsense demeanor. These two bring the action to life and it's been a pleasure listening to this series. I got through this ten-hour audiobook in no time!
Take a listen to an audio sample- but only listen if you have read Silver Shadows. (Spoilers!)
I'll miss the Bloodlines series and I'm holding onto hope for more books. The center will hold! In the meantime, we have Mead's new book, Soundless, to look forward to this fall!
Related Posts