New York's youngest food critic, All Four Stars' Gladys Gatsby, is back in Tara Dairman's THE STARS OF SUMMER! This charming middle grade series is perfect for foodies- Gladys has a sophisticated palate and her creations and restaurant finds will have your mouth watering. In this book Gladys is tasked with finding the best hot dog in New York for her newspaper gig. But spending the summer at camp makes it difficult to canvas the city to find the hidden gems of the hot dog world. Plus, her parents don't even know she's a food critic! Luckily she has her friends to support her in this culinary quest. Thank you to Tara Dairman and Penguin for sending me an advanced copy of this book! The Stars of Summer is on sale tomorrow.
About the Book:
In this charming sequel to All Four Stars, eleven-year-old foodie Gladys Gatsby now has her first published review under her belt and is looking forward to a quiet summer of cooking and reviewing. But her plans quickly go awry when her friend Charissa Bentley delivers Gladys's birthday gift: a free summer at Camp Bentley.

As Gladys feared, camp life is not easy: she struggles to pass her swim test and can't keep the other campers happy while planning lunches. The worst part is she can't seem to get away from the annoying new "celebrity" camper and sneak away for her latest assignment—finding the best hot dog in New York City. But when it turns out her hot dog assignment was a dirty trick by a jealous reviewer, Gladys's reviewing career may be over forever.
The Stars of Summer by Tara Dairman
On Sale: May 5, 2015
Putnam Juvenile
Hardcover, 336 pages
Find the book: Goodreads * Penguin *  Amazon * B&N * IndieBound
Five Reasons to Read THE STARS OF SUMMER:
Food – In Gladys' family she is the adventurous eater. She cooks delicious meals for her family and friends and scours for exotic ingredients to make her recipes pop. She's also a good writer and that led to her accidentally landing her secret food critic freelance job. The reader gets to tag along as Gladys samples the recipes at restaurants all over New York. On her hot dog adventure she seeks out international flavors to share with her readers.
Friendship – Gladys has a core group of friends: Her neighbor Sandy is always ready to help her out of a jam, Charissa is the queen bee who recognizes Gladys for the rising culinary star she is, and Parm is the faithful friend with the less sophisticated palate. In this book we meet a new character- Hamilton Herbertson, teen author of the smash hit Zombietown USA, a fellow camper.
Family – Gladys' family encourage her to spend less time perusing cookbooks and more time on age-appropriate pursuits. So they are thrilled when Charissa invites her to summer camp this year. This summer the family bonds over hot dogs and beach adventures, and in a role reversal Gladys especially likes that her parents are open to trying out new foods.
Adventure – Gladys is a precocious twelve-year-old who darts all over the city in her foodie pursuits. There is even a dastardly villain (competing food critic Gilbert Gadfly) who tries to thwart this rising culinary star at every turn.
Summer Fun – Gladys, Charissa and Hamilton spend the summer at the ritzy Camp Bentley as CIT's (counselor's in training). Gladys' days are spent in the camp kitchen trying to convince the cook to serve more adventurous dishes and learning to swim.
This series begins with All Four Stars (find out more about that book in my Author Q&A) and I hope Gladys' adventures continue for a good long time. I think this is a book for all ages- kids will cheer for Gladys and adults will flip for the foodie fun. Look for Gladys 3 to follow!
If Gladys ever takes a family trip to Disneyland/Los Angeles and has another hot dog assignment I have a trio of (plant based) suggestions: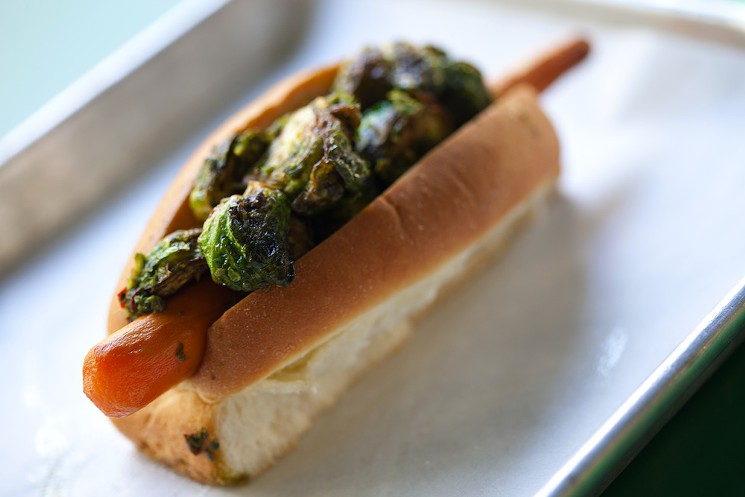 Fritzi Dog at The Original Farmer's Market – Try out the Fully Loaded Carrot Dog featuring parsley gremolata & crispy Brussels sprouts.
Pink's Hot Dogs – This classic establishment features Hollywood-themed dogs like the Lord of the Rings, Mulholland Drive, or The Hollywood Walk of Fame. Try The Patt Morrison Baja Vegan Dog featuring guacamole, chopped tomatoes and chopped onions.
The Frankenstand – 100% Vegan Spooky-Themed Cuisine featuring The Franken made with sun-dried tomatoes and basil.
About the Author:
Tara Dairman is the author of ALL FOUR STARS, which was named an Amazon Best Book of the Month and a Mighty Girl Top Book of 2014 for Teens and Tweens. She is also a playwright and recovering world traveler. She grew up in New York and received a B.A. in Creative Writing from Dartmouth College. After surviving the world's longest honeymoon (two years, seventy-four countries!), she now lives in Colorado with her husband and their trusty waffle iron.

Visit Tara: Website | Twitter | Facebook | Instagram

Author photo credit: Tiffany Crowder @ Crowded Studios
Follow THE STARS OF SUMMER Blog Tour:
Monday, April 27: Katie P./Bookish Illuminations (Review, Recipes & Giveaway)
Tuesday, April 28: Aeicha/Word Spelunking (Review & Hot Dog Recipe)
Wednesday, April 29: Sylvia/A Baked Creation (Review & Toronto Hot Dog Taste Test)
Thursday, April 30: Bonnie /For the Love of Words (Review)
Friday, May 1: Lisa/Fic Talk (Review)
Monday, May 4: Lucy/The Reading Date (You are here!)
Tuesday, May 5: LAUNCH DAY!
Wednesday, May 6: Dahlia/Daily Dahlia (Book thoughts & Favorite condiments)
Thursday, May 7: Karen/For What it's Worth (Review & hot dog recipe)
Friday, May 8: Jen/Pop Goes the Reader (Review)
Monday, May 11: Stephanie/Kitchen Frolic
Tuesday, May 12: Brenda/Log Cabin Library
Wednesday, May 13: Michael/Project Mayhem and Wendy/Midnight Garden
Related Posts