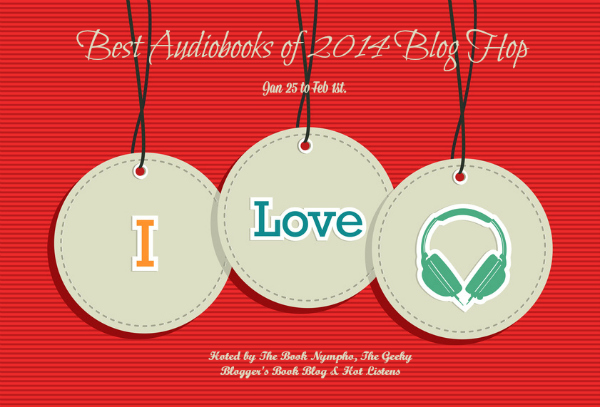 Hey Audiobook fans! Today we are celebrating our favorite audiobooks in the Best Audiobooks of 2014 Blog Hop! All the blog hop participants will be highlighting their top 5 audiobook titles of the year, so it's a great time to get some audiobook recs and enter to win some audiobook prizes. This event is brought to you by The Book Nympho, The Geeky Blogger's Book Blog & Hot Listens and runs from Jan 25 to Feb. 3.
I listened to just over 100 audiobooks in 2014, over 60% of my reading total. And today I'm highlighting 5 of my favorites- books or series that are even more enjoyable when you listen. (Check out the list of all the titles I listened to last year on Goodreads)
BIG LITTLE LIES by Liane Moriarty, performed by Caroline Lee – Penguin Audio, July 2014, 16 hours. From my review, "Lee makes this story really absorbing as she brings the small-town story to life. She is especially great with her larger than life portrayal of Madeline, but also subtle when the scene calls for it. I whole-heartedly recommend this as an audiobook- you will be looking for excuses to keep listening either by taking the long way home, staying on the treadmill longer, or volunteering to do the dishes. Lee is a great partner-in-crime for Moriarty's complex story." Take a listen at Audible.
SILVER SHADOWS (Bloodlines #5) by Richelle Mead, performed by Emily Shaffer, Alden Ford – Penguin Audio, July 2014, 10 hours, 41 minutes. As I said in my review, "Both performers get to show a lot of range in this book considering all the highs and lows that take place over the almost-11-hour book. Shaffer is a wonderful Sydney, and Ford fits Adrian to a T. Ford's Adrian is cool and confident and distinctly Adrian. While Shaffer's Sydney is smart, no-nonsense, yet emotional at all the right times. This was an audiobook I did not want to stop listening to."  Take a listen at Audible.
CROWN OF MIDNIGHT (Throne of Glass #2) by Sarah J. Maas, performed by Elizabeth Evans – Audible Studios for Bloomsbury, November 2013, 12 hours. As I said in my review, "With all of the action in Crown of Midnight, Evans keeps up by reading with more intensity. She matches Celaena's growth beat by beat and gets you good and wrapped up in the story. Evans makes all the characters sound unique and with their own personalities so there's never any doubt as to who is speaking.  She uses an appropriate tone for the romantic, action, and quiet scenes and reads with a brisk pace." Take a listen at Audible.
OUTLANDER series by Diana Gabaldon, performed by Davina Porter – Recorded Books, 8-book series of very long books. I've listened to the first 3.5 books in this series after I got hooked on the TV series. As I said about Dragonfly in Amber, "(Davina Porter's) performance is so steady and consistent, and her voice makes it easy to get lost in the story. There are a lot of different voices for Porter to convey and she is expert at making all the voices sound distinct. I was always surprised seeing the time fly by when I was listening." Take a listen at Audible.
WILD SEASONS series by Christina Lauren, performed by various – Simon & Schuster Audio, 2014. I listened to the first two books in the Wild Seasons series. From my review of Dirty Rowdy Thing, "this book is written in dual POV, and there are two narrators to match. Shayna Thibodeaux returns to narrate this book as Harlow, and Sebastian York (Beautiful Player) takes on Finn. Thibodeaux has a sassy, sarcastic, flirty tone that works great for Harlow. And York has that deep Southern drawl that is so hypnotic. Thibodeaux and York handle the funny/sexy/emotional scenes with ease and make this an addictive listen. I've only listened to Laurens' books in audio format and think that is the way to go." Take a listen at Audible.
Giveaway!
One winner will receive:
One audiobook (gifted via Audible) from my list of favorites (All except Big Little Lies are books in a series, so you are welcome to choose book 1 in the series, or whichever # you prefer)
Giveaway open to US entrants age 18 and up.
Winner will be notified on Feb. 3
Fill out the Rafflecopter to enter:
a Rafflecopter giveaway
You can also enter to win the main tour-wide giveaway: a Rafflecopter giveaway
Visit all the stops on the tour for more chances to win and for great audiobook recs:
Related Posts