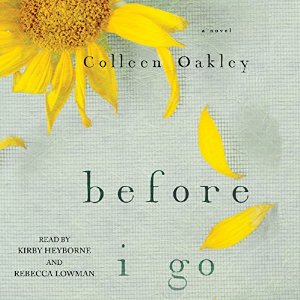 Before I Go
by
Colleen Oakley
Narrator:
Kirby Heyborne
,
Rebecca Lowman
Published by
Simon & Schuster Audio
on January 6th 2015
Genres:
Contemporary Women
,
Family Life
,
Fiction
,
General
Format:
Audiobook
Length:
10 hrs. 28 mins.
Source:
Publisher
Buy on Amazon
Goodreads
Twenty-seven-year-old Daisy already beat breast cancer three years ago. How can this be happening to her again? On the eve of what was supposed to be a triumphant "Cancerversary" with her husband Jack to celebrate three years of being cancer-free, Daisy suffers a devastating blow: Her doctor tells her that the cancer is back, but this time it's an aggressive stage four diagnosis. She may have as few as four months left to live. Death is a frightening prospect - but not because she's afraid for herself. She's terrified of what will happen to her brilliant but otherwise charmingly helpless husband when she's no longer there to take care of him. It's this fear that keeps her up at night, until she stumbles on the solution: she has to find him another wife. With a singular determination, Daisy scouts local parks and coffee shops and online dating sites looking for Jack's perfect match. But the further she gets on her quest, the more she questions the sanity of her plan. As the thought of her husband with another woman becomes all too real, Daisy's forced to decide what's more important in the short amount of time she has left: her husband's happiness - or her own?
Daisy has beaten cancer before, and despite the kale smoothies, yoga, and meditation program, the cancer is back with a vengeance. And this time a positive outcome is not in the cards. Daisy is only in her twenties so this doesn't seem fair at all. She and her husband Jack want to start a family, fix up their house, and travel now that Jack is getting ready to graduate. Now all Daisy can think about is what she can do to help Jack prepare for a life without her. Fix up the house, tie up loose ends, and maybe even find him someone else to love. Colleen Oakley's Before I Go is a tearjerker will make you think about how short and sweet life is. How would you want to spend your last few months on earth?
It's hard not to put yourself in Daisy's shoes and wonder how you would handle this prognosis. Daisy worries that her absent-minded husband won't be able to get along without her and so she needs to find an organized wife like herself to take care of him when she's gone. I kept turning to my husband to tell him not to expect that same treatment- I am not that nice. And when Daisy finds the perfect woman, is she relieved or regretful?
My heart went out to Daisy, though I wanted her to spend her time differently. You know, like give herself a break. Let her husband take care of her; spend time with her best friend and her mom. She was taking so much on and wearing herself out. She's an interesting sort of unreliable narrator too, especially as her disease progresses.
Despite the grave subject matter, this book is not entirely a downer. There are definitely some light moments. This was a book I didn't want to put down and I thought about it when I wasn't reading it.
The audiobook is read almost entirely by Rebecca Lowman. Lowman is a great fit for this book and gets to play out a lot of different emotions. Her comforting voice soothes you through the rollercoaster ride of a book. Kirby Heyborne narrates a small portion of the book and does a good job with the voice of Jack. I think this emotional story really excels in audio format.
Related Posts