In the YA Diversity Book Club, we chat about the latest YA books that celebrate diversity. Our book club includes Sandie @ Teen Lit Rocks, Kristan @ We Heart YA and Kristina @ Gone Pecan. Each month we'll focus on one book with a book review (our discussion chat) and bonus features.
Our June book club pick is Stacey Lee's UNDER A PAINTED SKY. This debut is a YA Western! How cool is that? It's about two girls who runaway together to escape to a better life. Samantha (Sammy) is s Chinese musician and Annamae (Andy) is a runaway slave looking to reunite with her brother. The two pose as boys to get by and team up with a group of cowboys to navigate the Oregon Trail.  I found this a really delightful read and it made me long for more books about female friendship duos. Many thanks to Penguin/G.P. Putnam's Sons for providing us with review copies of this book! 
About the book: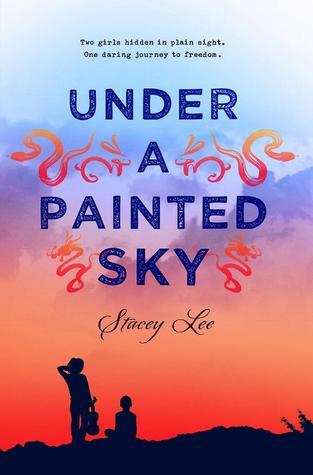 Under a Painted Sky by Stacey Lee, Hardcover, 384 pages, G.P. Putnam's Sons Books for Young Readers, March 17.
Goodreads * Amazon * Barnes & Noble * IndieBound
Missouri, 1849: Samantha dreams of moving back to New York to be a professional musician—not an easy thing if you're a girl, and harder still if you're Chinese. But a tragic accident dashes any hopes of fulfilling her dream, and instead, leaves her fearing for her life. With the help of a runaway slave named Annamae, Samantha flees town for the unknown frontier. But life on the Oregon Trail is unsafe for two girls, so they disguise themselves as Sammy and Andy, two boys headed for the California gold rush. Sammy and Andy forge a powerful bond as they each search for a link to their past, and struggle to avoid any unwanted attention. But when they cross paths with a band of cowboys, the light-hearted troupe turn out to be unexpected allies. With the law closing in on them and new setbacks coming each day, the girls quickly learn that there are not many places to hide on the open trail.

This beautifully written debut is an exciting adventure and heart-wrenching survival tale. But above all else, it's a story about perseverance and trust that will restore your faith in the power of friendship.
Count on Me: Strong Female Friendships in YA
One of the things we talked about in our book club discussion is how much we all enjoyed the strong female friendship in Under a Painted Sky. We talked about how the romance of the story wasn't really necessary because the two girls were so kick-ass on their own. (Sidenote: How important is it to you that all YA books feature romance?) Samantha and Annamae had each other's back and were a joy to watch.
Under a Painted Sky features such a strong female friendship and that made me interested in finding more books about great friendship duos. Here are some recent diverse books that feature friendship and/or strong female leads. Who are your favorite YA friendship duos?
The Girl at Midnight by Melissa Grey – BFF's Ivy and Echo support each other through all their fantastical adventures.
When Reason Breaks by Cindy L. Rodriguez – Two girls named Emily (one goes by middle name Elizabeth) work on an Emily Dickinson project and both are grappling with depression.
Everything Leads to You by Nina LaCour – From my review: "Emi & Charlotte's friendship is wonderful. They are their biggest cheerleaders and also call each other out when they need to."
P,S. I Still Love You by Jenny Han – This book celebrates the sisterly bonds of friendship in a really lovely way.
Hello, I Love You by Katie M. Stout – One of the biggest strengths of this book is the friendship that develops between boarding school roommates Grace and Sophie.
BE SURE TO CHECK OUT ALL OF THE BOOK CLUB FEATURES:
NEW: Follow us on Tumblr!
Stop by in July for our 1-year book club anniversary celebration!
Related Posts