Fly With Me
by
Chanel Cleeton
Published by
Penguin Publishing Group
on May 3rd 2016
Genres:
Fiction
,
Romance
,
Contemporary
,
Contemporary Women
Pages:
320
Format:
ARC
Source:
Publisher
Goodreads
From the author of the Capital Confessions Novels comes the first in the steamy Wild Aces Romance series.

U.S. Air Force fighter pilot Noah Miller--call sign Burn--loves nothing more than flying hard and fast. When he meets a gorgeous and sassy woman while partying in Las Vegas, he immediately locks on to her.

Jordan Callahan owns a thriving clothing boutique, but her love life is far less successful. Her luck changes when six feet, two inches of sexy swagger asks her to dance and turns her world upside down.

One scorching weekend becomes an undeniable chemistry that they can't leave in Vegas. But the long distance relationship and their different lives threaten to ground their romance. And when the dangers of Noah's job become all too real, Jordan learns being with a fighter pilot means risking it all for a shot at love...
Fly With Me is a new high-flying romance from Chanel Cleeton. It's a fun, fiery, fast-paced story that introduced me to the exciting world of fighter pilots. This Top Gun style series is refreshing and full of adventure. Read on to find out more about it this military romance and to sample the first chapter.
I'm a fan of Chanel Cleeton's Capitol Confessions and International School series' and was excited to meet The Wild Aces. The "Wild Aces" are U.S. Air Force fighter pilots and each of the pilots will star in their own book. The author is married to a fighter pilot herself so the story reads as very authentic. (Find out more about Fly With Me's inspiration here)
Fly With Me introduces fighter pilot Noah "Burn" Miller and clothing boutique owner Jordan Callahan. Noah and Jordan meet in Vegas one weekend when they are both in town letting off some steam. (He's stationed in Oklahoma and she lives in Florida) Both want their Sin City flirtation to continue, and their chemistry won't be denied, no matter the miles between them.
Noah and Jordan are both over thirty and haven't yet met "the one". Jordan's mother is eager for her to settle down, though a fighter pilot who travels so much of the time is not what she has in mind for her daughter. Noah likes to have fun but he's married to his job and knows that's a sticking point for any potential relationships. Can this whirlwind romance beat the odds and become something real?
The story is told in dual POV so we get to know each character in depth. Jordan is sassy, independent and relatable, and Noah is strong and self-assured. Both of them are passionate about their careers and have put off relationships. It seems like insta-love between them, but in this case it works!
We get to meet Noah's family- the other "Wild Aces" men. These characters and high-stakes situations provide an intriguing backdrop for the story. There are plenty of tantalizing details about the other fighter pilots that made me eager to read their own books.
Fly With Me is sweet, sexy and emotional and I can't wait to read more about these characters in the sequels. If you like military romance and reads with heart, adventure and emotion give this one a try.
Fly With Me is in stores now.
Find it: Amazon | B&N | Google Play | iBooks | Kobo | Goodreads | Read Chapter One
Get ready for book two in the Wild Aces series!
Into the Blue is on sale July 5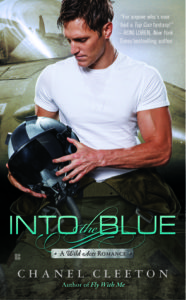 From the author of Fly with Me and the Capital Confessions Novels comes the newest in the sexy Wild Aces Romance series.

Eric Jansen—call sign Thor—loves nothing more than pushing his F-16 to the limit. Returning home to South Carolina after a tragic loss, he hopes to fix the mistake he made long ago, when he chose the Air Force over his fiancée.

Becca Madison isn't quick to welcome Thor back. She can't forget how he shattered her heart. But Thor won't give up once he's set his sights on what he wants—and he wants Becca.

Thor shows Becca that he's no longer the impulsive boy he used to be, and Becca finds herself irresistibly drawn to him. But will Thor be able to walk away from his dream of flying the F-16 for their love or does his heart belong to the sky?
About the Author:
Originally a Florida girl, CHANEL CLEETON moved to London where she received a bachelor's degree from Richmond, The American International University in London and a master's degree from the London School of Economics and Political Science. Chanel fell in love with London and planned to stay there forever, until fate intervened on a Caribbean cruise and a fighter pilot with smooth dance moves swept her off her feet. Now, a happily ever after later, Chanel is living her next adventure.

Law school made Chanel realize she'd rather spend her days writing sexy stories than in a courtroom, and she hasn't looked back since. An avid reader and hopeless romantic, she's happiest curled up with a book. She has a weakness for handbags, her three pups, and her husband.

Chanel writes contemporary romances, women's fiction, and thrillers. She is published by Harlequin HQN, Penguin/InterMix, and Penguin/Berkley and is the author of the International School, Capital Confessions, Assassins, and Wild Aces series.

Connect: Website | Facebook | FB Reader Group | Twitter | Goodreads | Newsletter | Instagram
Related Posts