It was a strong year for TV panels at this year's Comic-Con. Fan favorites like Game of Thrones, Sherlock, Supernatural and The Walking Dead ruled at Hall H, while newcomers like Mr. Robot, American Gods, and Silicon Valley made a big first impression. I did end up sitting in on more than my share of TV Panels this year with my guys and here are some highlights:
Comic-Con 2016: TV panels
Returning Shows:
Orphan Black – With the announcement that next season will be its last, I believe this was the final Clone Club gathering. Since room 6BCF isn't big enough to hold all the Orphan Black fans we arrived several panels early to grab a seat.  In attendance were: Tatiana Maslany (Sarah and the Leda clones), Jordan Gavaris (Felix), Kristian Bruun (Donnie), Kevin Hanchard (Art) and Kathryn Alexandree (Leda clone double actress), as well as co-creators John Fawcett and Graeme Manson. They didn't really give anything away in terms of spoilers, but instead shared bloopers and took fan questions. One really fun thing they did this year was give Tatiana Maslany a scenario and have her act out a scene as one of the clones with one of her cast members – for example Alison and Donnie attend a Trump rally. They also gave out a nice sleeveless tee to all in attendance. I'll miss this show so much!
Mr. Robot – This was Mr. Robot's first year at the Con, though they did an offsite event last year. This panel was one of my must-do's this year so I sat through many video game panels ahead of time to ensure I had a seat. On hand were stars Rami Malek, Christian Slater, Portia Doubleday, Carly Chaikin and season 2 newcomer Grace Gummer to discuss Season 2. The panel opened with a video message from fsociety, they showed a scene from the next episode, and talked about the Mr. Robot phenomenon, and things like Christian Slater's love for Pokémon Go and The Bachelorette with moderator Chris Hardwick. Someone in the audience compared fsociety to the parent studio behind Mr. Robot, and Rami Malek gestured to the audience where a studio head was sitting and said they've been in fact very supportive.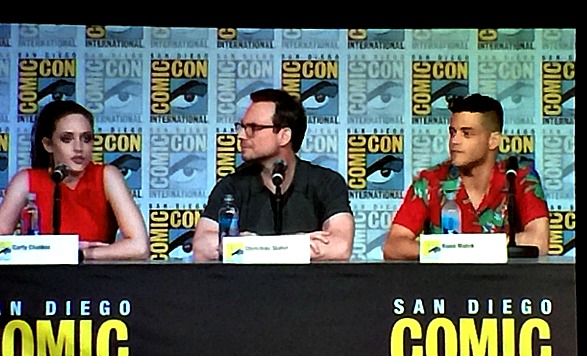 Colony – From Comic-Con, "Colony fans: whose side are you on: the Collaborators or the Resistance? Executive producers Carlton Cuse and Ryan Condal, along with series stars, offer an exclusive inside look at the new season. When USA Network's critically acclaimed series Colony returns for season 2, mysterious intruders are still in control of a near-future Los Angeles. Will, played by Josh Holloway (Lost), has been cooperating with the Collaborators, but now that he knows his wife Katie's (Sarah Wayne Callies, The Walking Dead) secret, have they jeopardized any hope of getting their son back?" I have never seen Colony, but was in the room because this panel preceded Mr. Robot. I'm a Lost fan though, so was happy to see Carlton Cuse and Josh Holloway collaborate again. Retta (Parks & Rec) moderated the panel and made it lots of  fun. There was also a hilarious spoof clip featuring Silicon Valley's Kumail Nanjiani playing the Bowman's long lost son. (Watch the clip here) All attendees received a Colony beret.
Steven Universe – The cast and crew of this Cartoon Network fave came together for a musical panel, dubbed the Steven-Sing-a-Verse. In appearance were Rebecca Sugar (creator), Jeff Liu (writer and storyboard artist), Zach Callison (voice of Steven), Estelle (voice of Garnet), Michaela Dietz (voice of Amethyst), Deedee Magno Hall (voice of Pearl), Charlyne Yi (voice of Ruby), and Ben Levin (writer), accompanied by series composers Aivi Tran and Steven "Surasshu" Velema and moderator (former supervising director) Ian Jones-Quartey. My teen loves the show so this was worth the 6am queue up time to make sure we had a good seat. It actually was one of my favorite panels of the entire Con- great music, Rebecca Sugar was inspirational and talked about why the LGBTQ representation on Steven Universe is so important, and it was an emotional yet uplifting panel all around!
 New Shows
American Gods – American Gods is a new show coming to Starz, based on the book by Neil Gaiman. On hand to talk about this new series were Bryan Fuller (executive producer), Michael Green (executive producer), Ricky Whittle (Shadow Moon), Ian McShane (Mr. Wednesday), Pablo Schreiber (Mad Sweeney), Yetide Badaki (Bilquis), and Bruce Langley (Technical Boy) plus special surprise guests Kristin Chenoweth and author Neil Gaiman! They showed the first trailer for this show at the panel and it looks intense. I hadn't read the book but when I got home I added it to my library queue so I'll have read it before watching. During the panel it was announced that Chenoweth would be playing the part of Easter.
Preacher – This new AMC series started airing this summer, and they had a star-studded Hall H panel on Friday night. On hand were Executive producers Seth Rogen and Evan Goldberg, comic book co-creator and series co-executive producer Garth Ennis and members of the cast including Dominic Cooper, Ruth Negga, Joseph Gilgun, Ian Colletti and Graham McTavish and moderator Kevin Smith, to discuss the first season of the hit series. What made this panel really special and fun is that the cast did a live table read of the episode airing Sunday. Since some of the cast couldn't make the panel some celebrity friends filled in including: Kevin Smith, Danielle Panabaker, and Jason Mantzoukas. Andrew caught up with the series just in time for this panel and it sounds like it was a good time for all, and the episode held some shocking moments.
Dirk Gently's Holistic Detective Agency – This new BBC America series premiers October 22. On hand to tell us about it were stars Elijah Wood (Wilfred), Samuel Barnett (Penny Dreadful), Hannah Marks (The Amazing Spiderman), and Jade Eshete (Dead Beat), lead writer and executive producer Max Landis (Chronicle, American Ultra), showrunner Robert Cooper (Stargate Atlantis, Stargate Universe). This show is loosely based on the Douglas Adams books of the same name and is about an eccentric detective and his assistant and their bizarre adventures. At the panel, showrunner Max Landis announced he's also working on Pepe le Pew animated movie.
People of Earth and Powerless – This panel featured the screening of two new sitcoms as well as the cast and crew for a brief Q&A.
People of Earth is a new TBS show from Conan O'Brien and Greg Daniels (The Office). It's about a support group for alien abductees and stars Wyatt Cenac (The Daily Show) and he along with O'Brien, Daniels, and creator David Jenkins were on hand to talk about the show. I enjoyed the pilot a lot and will make room on my DVR for this one.
Powerless "is the story of Emily (Vanessa Hudgens), a young insurance adjuster specializing in regular-people coverage against damage caused when superheroes and supervillains treat the city like their own personal battleground." It's also "the first comedy series set in the DC universe." On hand were cast members Vanessa Hudgens (High School Musical), Danny Pudi (Community), and Alan Tudyk (Suburgatory) along with executive producer Ben Queen (A to Z), and executive producer/director Michael Patrick Jann (Reno 911) to talk about the show. This show has a good cast and great premise so I'd give it a shot this fall.
TV ruled at Comic-Con this year, and even though the movie presence was lower than in previous years I think the TV coverage more than made up for it.
Check out my other Comic-Con recaps: Books and Video Games.
Are you interested in checking out any of these shows this fall?
Related Posts