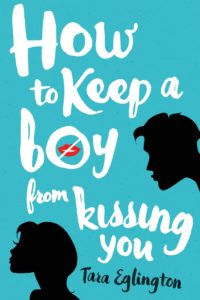 How to Keep a Boy from Kissing You
by
Tara Eglington
Published by
St. Martin's Griffin
on October 25th 2016
Genres:
Young Adult Fiction
,
Romance
,
Contemporary
,
Humorous
,
General
Pages:
320
Format:
ARC
Source:
Publisher
Goodreads
Sweet sixteen and never been kissed . . .That's Aurora Skye's big secret. And the way she wants it to stay. She's not going to give away her first kiss to just anyone. Busy dodging suitors and matchmaking for her best friends, Aurora (not so) patiently awaits her prince.
But everything changes when Aurora is coerced into a lead role in the school production of Much Ado about Nothing. Which means she'll have to lock lips with her co-star Hayden Paris—the smart and funny boy next door who also happens to be the bane of her existence, always around to see her at her worst.
Now Aurora is more determined than ever to have her first kiss with the one who's truly worthy of it. But first she'll have to figure out just who that person is.
Romantic and funny, Tara Eglington's How to Keep a Boy from Kissing You is a feel-good tale of finding love where you least expect it.
How to Keep a Boy from Kissing You is a super cute read about a girl who wants her first kiss to be with a modern-day Prince. Aurora Skye loves fairytales and wants that kind of mythical epic romance in real life. This Much Ado About Nothing-inspired story includes a high school production of the Shakespeare play where the events on the stage mirror Aurora's own tangled love life.
Aurora has seen her own parents' marriage fall apart and sets her sights on a starry-eyed romance for herself. Her mother has been largely absent in her life and Aurora hopes that her role in the school play will get them closer. Her father (dubbed New Age dad or NAD) has dipped his toes into the dating pool and is now seeing Aurora's ill-tempered interpretive dance teacher.
Though her parents are not around too much, Aurora has a good group of girlfriends to lean on. All the girls are involved in their own matters of the heart and plot how to succeed with Operation Prince. Of course, things get messy on the path to true love.
Aurora has a secret admirer that seems to check all the boxes on her Prince Charming wish list. Who could he be? You'll figure it out right away but it doesn't spoil the fun.
The school play behind-the-scenes provides lots of drama, humor, and misunderstandings. The director is frustrated with the cast, and especially Aurora who humorously tries to avoid kissing her leading man, Hayden Paris, the boy next door. He calls her princess- could he be her prince?
This is the first book of the Aurora Skye series/duology, and the sequel is due out next year. If you love rom-coms keep this one in mind!
How to Keep a Boy from Kissing You is on sale now.
Find it: Macmillan | Goodreads | Amazon | Barnes & Noble | IndieBound
About the Author:
Tara Eglington grew up in Byron Bay, Australia. Her hobbies when she's not writing include watching endless cat videos on YouTube, planning pretend holidays to the Maldives, and day-dreaming about who would play Hayden Paris in a film adaptation of How to Keep a Boy from Kissing You. The novel's sequel will be published in 2017.
Related Posts