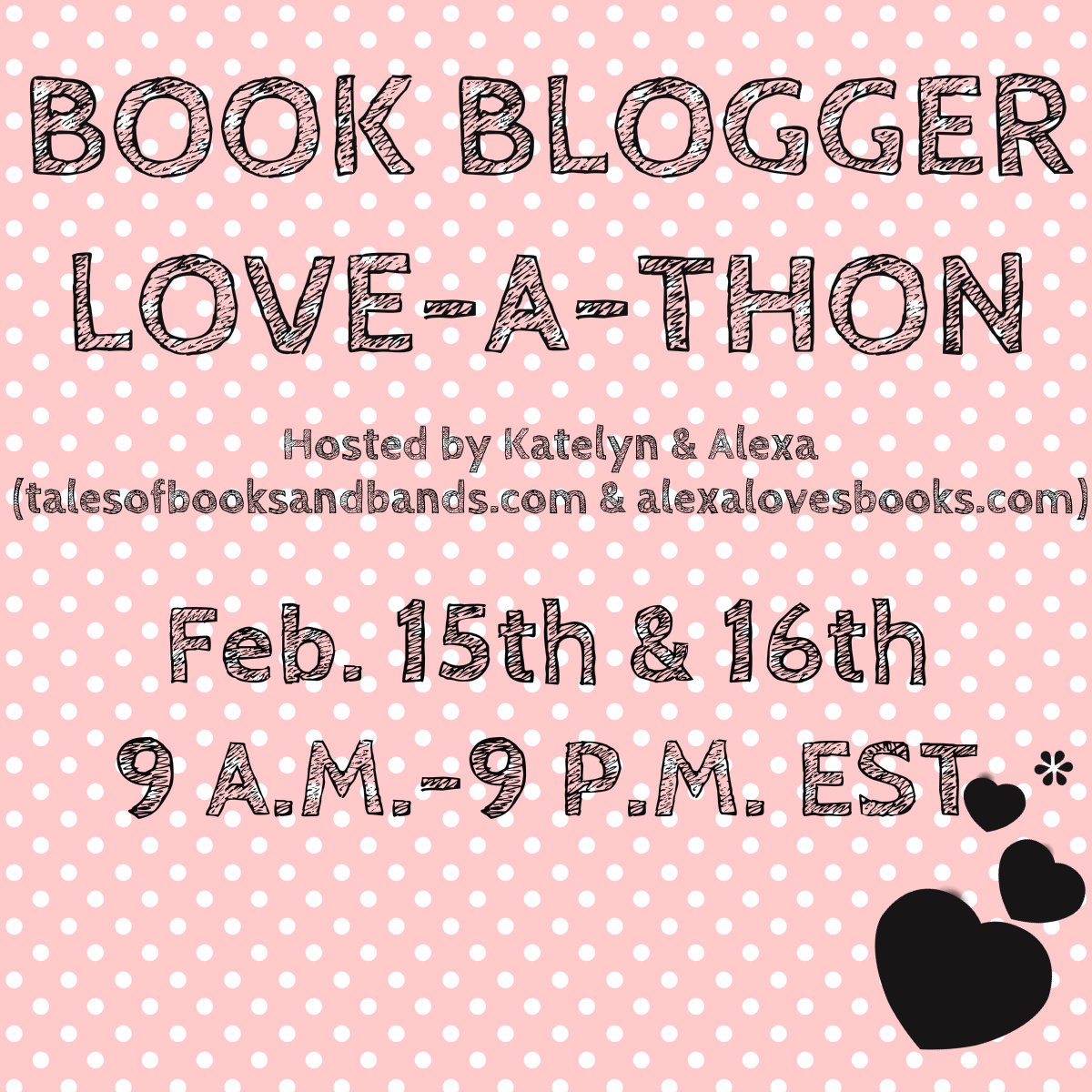 Hello all! Today is the kick-off for the Third Annual Book Blogger Love-A-Thon! Katelyn of Tales of Books & Bands and Alexa of Alexa Loves Books host this annual event and it's a celebration of book blogs! This Valentine's Day weekend show your favorite blogs some love by commenting, sharing favorite reviews, and following some new-to-you blogs. In addition, there are many fun mini challenges, prizes, and a twitter chat to participate in. The first activity is where we get to know the person behind the blog a little better.
Q&A with Lucy of The Reading Date:
1. How did you come up with your blog name?
My husband Andrew (he runs The Movie Date feature on this blog) takes credit for the name since he came up with "Reading Dates" to describe times when we would hang out together reading. He reminds me that he first mentioned the term after we'd been dating for a couple months when he said he felt so comfortable with me we could have fun just quietly reading books together. The term has evolved over the years but we basically use it in our household when we are all caught up in a good book.
2. What genre/subject matter do you read and review most on your blog?
I am not remotely a YA but I am a parent of one, and my daughter is the reason I'm hooked on the genre. We both love YA contemporary best.
3. Name the 3 books you're excited for in 2014!
Breakable by Tammara Webber
Isla and the Happily Ever After by Stephanie Perkins
Landline by Rainbow Rowell
4. Where in the world are you blogging from?
I live in Burbank, CA. Burbank is nicknamed The Media Capital of the World since it is home to Warner Bros, NBC, Disney, etc. It's a city in Los Angeles that has a small town feel to it. I've also lived in San Francisco and New York and miss both cities very much!
5. Tell us — how did you get into blogging in the first place?
Goodreads introduced me to the social media aspect of reading and inspired me to give blogging a try.
6. Apart from reading, what other hobbies/interests do you have?
I like cooking, music, pop culture, exercise, Comic-Con, and crafting.
7. If you were stuck on a deserted island, which books would you bring with you?
Let's be optimistic and say I can bring my kindle, okay? A few 2013 favorites are: Sex & Violence, Out of the Easy, Fangirl, The Reece Malcolm List, This Song Will Save Your Life, and Openly Straight.
8. If you were stuck in some dangerous situation (like a fire, a sinking ship, a warzone), which book boy or girl would you want to come and save you?
Katniss Everdeen seems like a good quick-thinking heroine to me.
9. You're attending a party with your friends. Suddenly, the DJ changes the song and it's YOUR song – what song would that be?
NO IDEA. But here's a playlist of songs I'm liking at the moment:
10. What 3 movies would you love to have your favorite author write into books, or vice versa? 
This is such a tough one! How about I just tell you my a few of my favorite recent book adaptations instead?
This was fun! Looking forward to reading your answers. Happy Love-A-Thon-ing! And oh, I have an international giveaway to win one of the six Cybils YA Fiction finalists going on now. Enter here if you like!
Related Posts