Mailbox Monday is a weekly event where we share our latest book arrivals. Link up and find new mailboxes to stalk at the Mailbox Monday blog!
I'm still playing catch-up from my vacation, so I'm sorry if I haven't been as present in the blogosphere lately. I'll get my blogging mojo back soon I'm sure.
I'm excited about the books I picked up this week! There are some books that are perfect for LGBT April, an eagerly anticipated sequel, promising looking audiobooks, and a couple Adult titles that sound fantastic.
This week I received: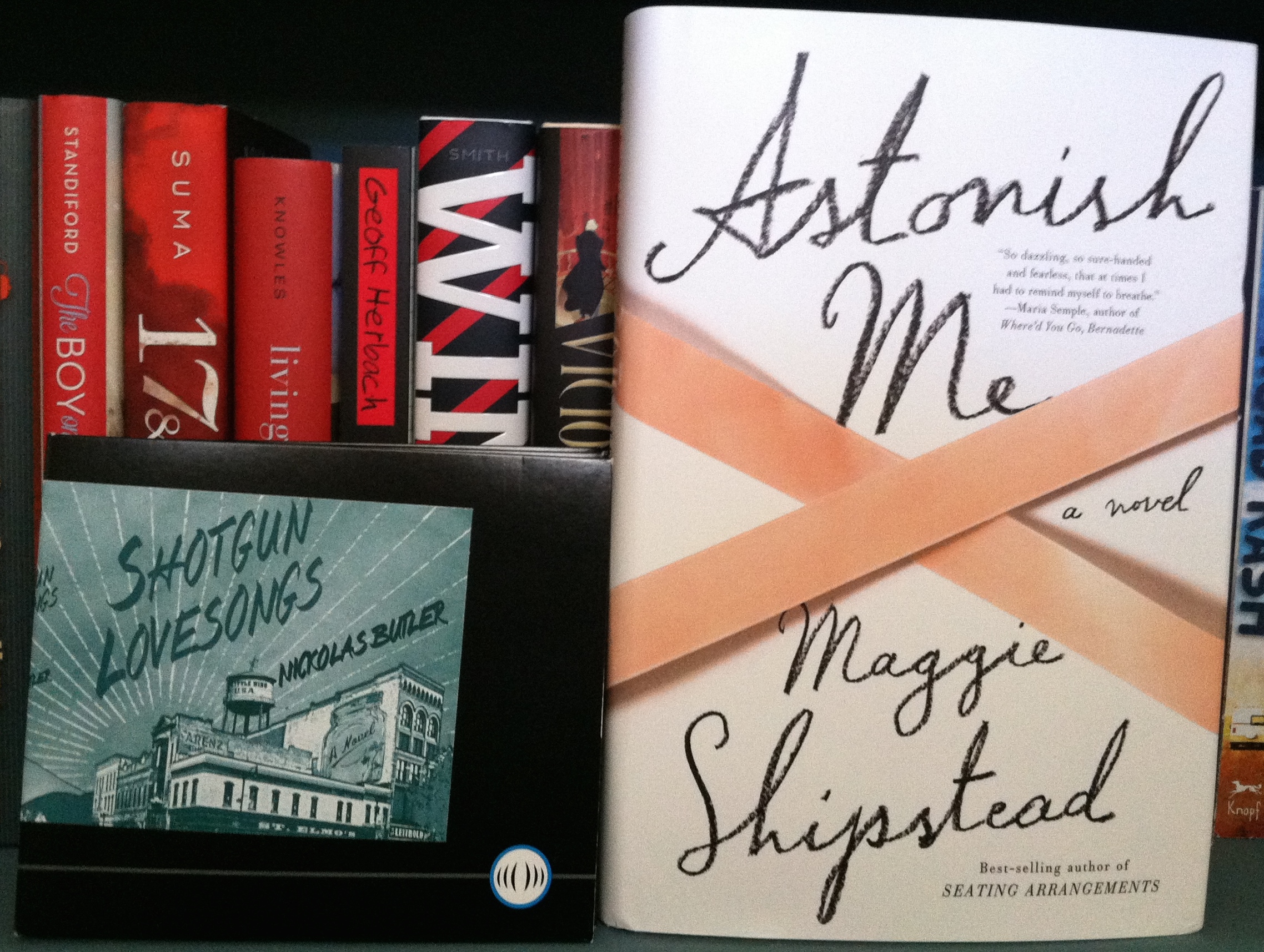 Review Books:
Astonish Me by Maggie Shipstead – Thank you Knoph publishing! I've been interested in this title – it's about the world of professional ballet, family and love.
Shotgun Lovesongs by Nickolas Butler (Audiobook) – Thank you Audiobook Jukebox and Macmillan Audio! I'm eager to listen to this one. It's told by multiple perspectives and performed by a full cast. The book is about small-town life, music, friendship, and love, with some inspiration from Justin Vernon, frontman for Bon Iver, and friend of the author.
Review e-books:
Rooms by Lauren Oliver – I'm excited to read Oliver's Adult debut! It's described as a ghost story/ family drama.
Ask Me by Kimberley Pauley (Audiobook) – Thank you Audiobook Jukebox and Blackstone Audio. Ask Me is about a teenage oracle who is compelled to always tell the truth, even though what she says is cryptic.
No One Needs to Know by Amanda Grace – No One Needs to Know is about a girl and her twin brother fall for the same girl.
Fragile Line by Brooklyn Sky – Fragile Line is about a girl who suffers mysterious blackouts and is haunted by bad childhood memories.
Whisper to Me by Christina Lee – Book 3 in the Between Breaths series. This installment is about Rachel and bass player Kai.
Boys Like You by Juliana Stone – This YA romance is about two damaged characters that find each other.
The Boy I Love by Nina de Gramont -This book is about secrets, love and prejudice.
Tell Me Again How a Crush Should Feel by Sara Farizan – A Persian girl falls for another girl at her high school. A coming out story with plot twists.
My Best Friend, Maybe by Caela Carter – This book is about friendship, love and sexuality and features a vacation to Greece.
What's new in your mailbox? 
Related Posts