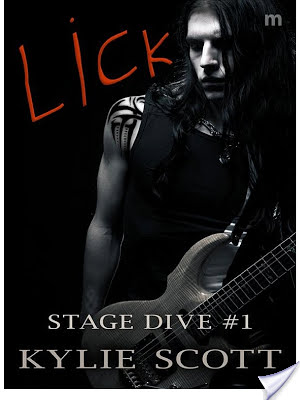 Lick
by
Kylie Scott
Series:
Stage Dive #1
Published by
Pan
on July 1st 2013
Genres:
Fiction
,
Romance
,
General
,
Contemporary
,
Urban
Pages:
214
Format:
ARC
Source:
Publisher
Goodreads
Also by this author:
Play
,
Lead
,
Deep
,
Dirty
Just when you start getting weary of New Adult, along comes an awesome, satisfying read like Lick. I happened to see a few positive reviews and thought I'd give it a shot, though I was still a little skeptical. Fast forward to 2am when I'm struggling to stay awake but don't want to stop reading. But at the same time not wanting to rush through the book! The last time I stayed up late reading a NA book it was Easy by Tammara Webber, so yay for another addictive NA book, and the first book in a series no less!
The set-up in Lick is that Evelyn (Ev) wakes up in a Las Vegas hotel room after a very drunken night celebrating her 21st birthday. And she's not alone.  Also in the room with her is David, a tattooed guitarist from the massively successful rock band Stage Dive. Ev has a bit of amnesia about their night, and certainly doesn't recall getting married- though she wakes up with the huge diamond on her finger (and David's name tattooed on her rear) to prove it. So, how did they get here?
It makes sense to get an annulment since obviously it was one drunken night in Vegas, right? But maybe there's something there and the pair can work backwards to see if they do in fact have a future.
What sets Lick apart from other rock star romances is Kylie Scott's writing. The premise seems kind of cliché and hard to believe, but Scott really sells it and got me quickly caring about these characters. I'm not one to shy away from angst and there is some drama in this one, but it fits well in the story and is not overdone.
David and Evelyn on the surface don't fit. They have such different lifestyles – Ev is on the architect career path, and David has the rock star thing going on.  Neither have the best track record with love, and yes there are skeletons in his closet that need to be dealt with. But the pair is a totally root-worthy couple. I really liked their getting to know each other scenes.
Lick is told from Evelyn's perspective. She is overwhelmed with it all, but pretty funny too. I like dual POV and wouldn't mind getting inside David's head, but I still felt that I understood his character pretty well. He remembers everything about the night in Vegas though and I was curious about what he was thinking about it all. The slow reveal was cool though also.
Lick is the first book in the Stage Dive series. Each book will be centered on a different member of the band. The other band members in Stage Dive did make an interesting first impression, and I especially thought Malcolm (Mal) was really funny and charming in his way.
You know that feeling you get when you connect with a book and can't put it down, but you don't want it to end? This book has kind of ruined me for other rock star romances. It was just so swoony, entertaining and witty. I highly recommend Lick for the emotional connection, chemistry, romance, and humor. I'm definitely interested in trying out Scott's Flesh series next- post-apocalyptic erotica- wow!
Related Posts